What are Montessori Sensitive Periods and why are the so important?
Sensitive Periods are those periods of time when a child's absorbent mind is the most ready to learn and even master a certain skill in their development.
It can also be describes as a time where the child is intensely interested in specific skills.
This hinges on the way a child learns around their world and the opportunities that the child is exposed to.
In The Montessori Method, we definitely can take advantage of these open windows of opportunity to maximize learning because we are "hitting the nail on the head."
In this training, we are going to discuss 3 things that you must know when it comes to Montessori Sensitive Periods so you can go about it right!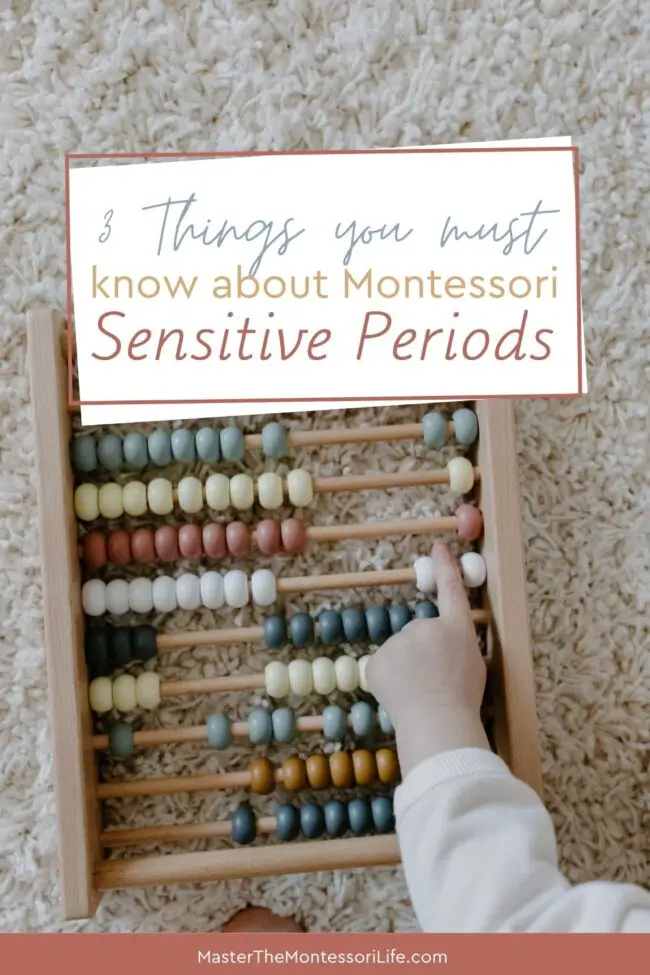 Watch & Listen to the Episode Here:
As you watch or listen to this training, know that you will be able to get more information than what is included in this blog post.
I really want to encourage you to take the time to watch or listen and take notes.
This will be helpful to you now and in the future.
The list of Sensitive Periods is vast.
I mean, simply think about all of the skills that children learn in the first 6 or 7 years of life!
But some of these Sensitive Periods are: fine motor skills for handling small objects, fine motor skills to trace a letter and its shape and learning letter shapes and sounds.
And these are only focusing on a tiny part of the Language development part of life.
So let's continue and explore more about these.
#1 Sensitive Periods vary from child to child.
As you do your intent and deliberate observations of every child, you need to be taking notes.
You must notice everything, big and small.
Write it all down and keep track of any changes.
You need to have a Sensitive Periods chart with you so you can constantly assess what Sensitive Periods are open, about to open and about to close in each child.
I have a Sensitive Periods chart that is thorough and gives you great guidance on how to go about deciphering what these important times in young children's lives.
Please understand that Sensitive Periods are very fluid and vary from child to child.
As you consult the Sensitive Periods chart, pay attention to its general guidance, but know that, just like we don't put children in a box, this chart is not set in stone.
It is not a one site fits all chart, so use it as a guide for the norm, knowing that some children can be outside that norm.
And that is ok.
That is the beauty of following the child.
We discover something beautiful and new in the child on a daily basis.
#2 Sensitive Periods vary in length.
As I mentioned before, Sensitive Periods vary from child to child.
But they also vary in length.
Some children might have their Sensitive Period for order open for 4.5 years and others for just one.
Some children's Sensitive Period for movement might open up for a child from birth to age 3 and others don't stop until they're 5 or 6 years of ages.
And these are just some examples.
In reality, every child is different and they will all learn at their own pace.
The important thing is to catch the specific periods open and know what to do to take advantage in Montessori education.
Observe the child.
Take note of what is open.
Make a plan of action for that child according to that child's interests.
This can look very differently.
#3 Sensitive Periods vary in order.
Not only do Montessori Sensitive Periods vary from child to child and vary in length, but they also vary in order.
As if you didn't need to throw another variable into the mix, right?!
But it is true that some children are ready for some skills that seem to be out of normal or natural order.
Does that matter?
In most cases, no, but you do need to consider.
For example, does it matter whether a baby skips crawling and goes from sitting to walking?
Probably not.
Does it matter is a child learns to write cursive before manuscript?
Probably not.
So keep in mind that you might see this and to not freak out about it.
Keep following the child and make the call on whether the child is truly ready or simply curious.
For example, my son was very interested in creating his own app with a video game-type activity.
He interviewed my dad, who is an app creator (in collaboration with a team) and asked my brother questions as well.
After taking notes and learning of all the things he would need to learn and do, he realized that he wasn't ready for that huge jump.
He discovered that he first needs to take more coding lessons and learn a specific set of skills.
He also needs to find ways to save money to invest into this project.
So, as you can see, that Sensitive Period is open for him, but not because he's putting that big goal (rung ten on a ladder, so to speak) on hold, that means he's not feeding it.
He's simply starting to climb the ladder from the bottom, one rung at a time.
Key Takeaways
Sensitive Periods are those periods of time when a child's absorbent mind is the most ready to learn and even master a certain skill in their development.
They vary from child to child, they vary in length (as to how long they are open for) and they vary in order.
Resources mentioned in training
Like I said at the beginning of the show, I have a FB group for all things Montessori that you are welcome to join.
It is called The Montessori Way Prep Room.
If you want to join a homeschool Facebook community, then join The Natural Homeschool Community!
You May Also Benefit from these Important Montessori Topics:
As you learn more about Master The Montessori Life, you will realize just how much I strive to make your life easier.
I also seek to equip you, to inform you and to give you made-for-you options so you can keep moving forward on your Montessori journey without any speed bumps.