Freedom Within Limits' in the Montessori Environment Come and find out how freedom within limits works for discipline in children.
---
The Montessori curriculum and activities regarding young children and independence are described in detail in this section.
If you are a Montessori teacher or parent and have been looking into the Montessori curriculum or would like to learn more about Montessori activities, then you have come to the right place.
Understanding the philosophical underpinnings of the Montessori method is critical to your success in the method, regardless of you working at a Montessori school or doing it at home.
Because Montessori practices differ significantly from those of traditional schools, the subject of discipline is a hot topic in Montessori circles.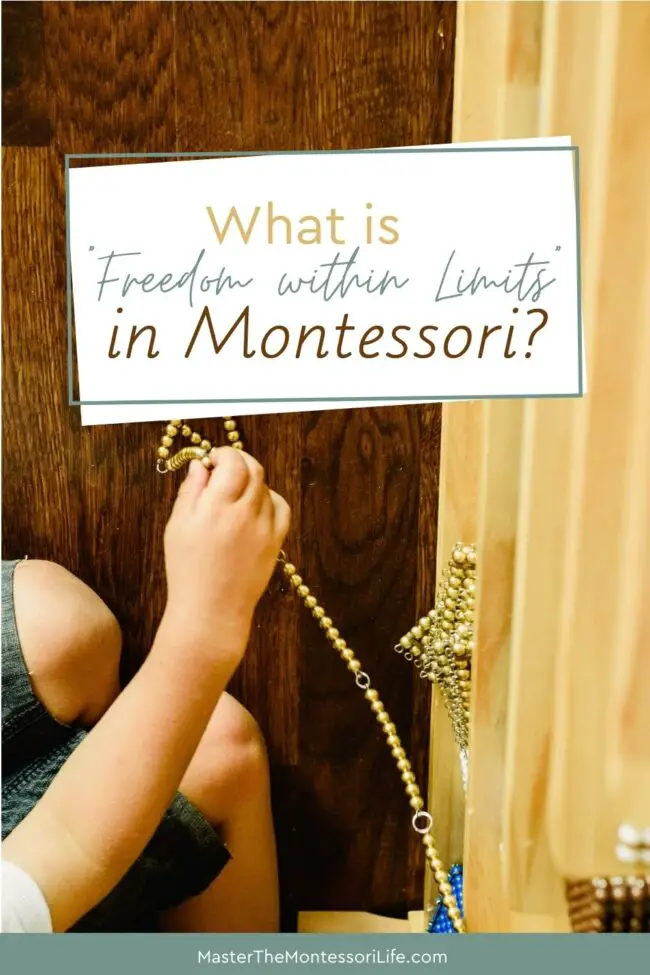 Let's discuss three things about this very important topic in Montessori education.
It will open your eyes to a new way to determine freedoms, limits, boundaries and more.
#1 Be more aware of the words "encroachment" and "permissiveness."
These are diametrically opposed to one another, and both are harmful to children in The Montessori classroom.
Please pay close attention to the direction in which the pendulum swings between the two.
It is inevitable that both extremes will have a negative impact on children.
Why?
Because encroaching is being a helicopter parent or teacher, not allowing the child to make their own decisions or to progress into greater independence, is to be prohibited in your mind.
Permissiveness, on the other hand, will allow the child to run free without supervision, without assisting them in learning the proper steps to take in order to achieve independence and confidence.
"He never has time or opportunity to test himself, to estimate his own force and his own limitations because he is always interrupted and subjected to our tyranny, and languishes in injustice because he is always being bitterly reproached for not having what adults are perpetually destroying."

Maria Montessori, The Montessori Method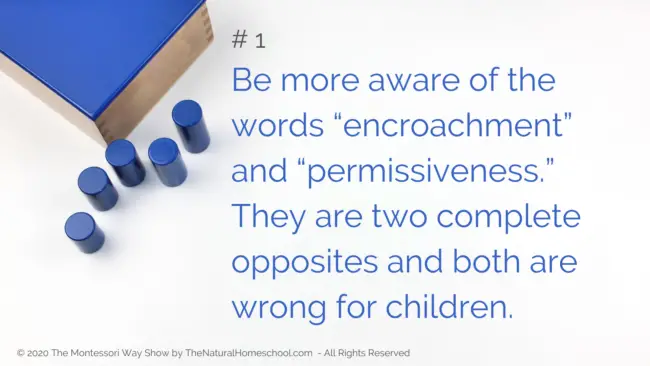 #2 Help the child be a master of himself.
Child independence… What a scary and amazing thought… Isn't it?
In the event that they are under the control of another, they are not in control of themselves.
Children learn best through discovery and if we give them the power of control, they can work independently.
As previously stated, if we don't allow the child to have some control over the situation, they will not be able to learn from their mistakes.
Which of the following options would you prefer to take?
A. Allow the child to experiment with new things in a safe environment under your supervision, even if they fail.
B. Constantly tell the child what to do, micromanage them, and deny them the opportunity to explore new possibilities.
Choosing Option A. will assist the child in developing courage and self-confidence, as well as a sense of wonder and an openness to trying new things, which will enable the child to be more successful in future endeavors.
If you choose Option B, you will be doing a great disservice to your child because you will not be preparing them for life in the real world, for making decisions for themselves, and for learning from their mistakes.
Make an informed decision.
"We call an individual disciplined when he is master of himself, and can, therefore regulate his own conduct when it shall be necessary to follow some rule of life."

Maria Montessori, The Montessori Method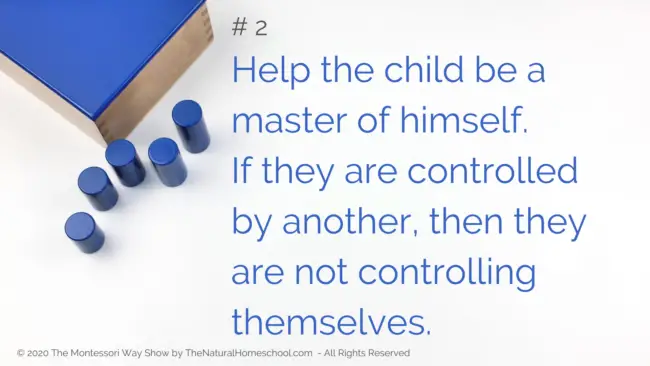 #3 Make a list of freedoms you can let go of.
Please give yourself some grace on a daily basis.
I know it is hard, but start with one or two things and work your way up.
Children want to be free, so you need to focus on a safe environment training of sorts.
You want to have less stress in your life and in how you carry out your Montessori environment.
How can these two reconcile?
It is difficult, yes, but it is worth letting go of some things.
You might think, and rightfully so, that letting the child be free to make some decisions will be stressful.
It will be, but only for a time, especially as they become more normalized and learn more on how to use Montessori materials.
But if you do it right, you will help the child become independent and learn how to make the right decisions.
That is when you get to sit back and enjoy the beautiful Montessori journey right before your eyes.
In other words, work hard at first and enjoy later, but boy, it is worth it. 
"The first glimmerings of discipline appear as the result of work. At some given moment it happens that the child becomes deeply interested in a piece of work; we see it in the expression of his face, his intense concentration, the devotion to his exercise… We find therefore that discipline comes by an indirect route, by developing activity in spontaneous work."

Maria Montessori, Discovery of the Child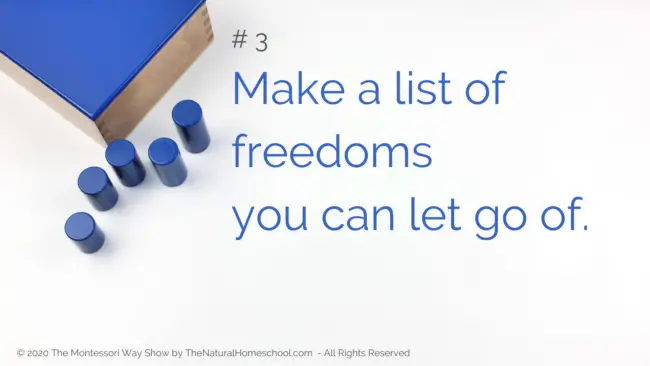 In Conclusion
I sincerely hope you found this training to be beneficial!
Please let me know what you think in the comments section.
I'd love to hear how this has helped you, what you have planned to try, and, most importantly, what are the things that you have decided to let go of, as I suggested in point #3 of this article.
THIS IS A LIST OF THE RESOURCES THAT WERE MENTIONED IN THIS EPISODE
Books by Maria Montessori (for more information, please see the images below):
You might also like: