In our training, we will be discussing ways to get Montessori training for Guides that want to improve their Montessori journey.
---
Montessori training and teacher education is almost as varied as there are Dr. Maria Montessori books.
Some of it is in-person only (like a university course).
Some is distance learning (online) only and some is hybrid (part in person and part online).
There are live events and recorded events for professional development.
And there are formal classes in training centers and informal ones.
There are classes based on Montessori books and there are some that use them as a small reference and make things more practical.
As you can see, there are so many different ways to learn more about The Montessori Philosophy.
Here, I am not referring to official Montessori teacher certification.
I am focusing on Montessori training that gets you closer to your Montessori goals in ways other than formal Montessori certification.
In our training, we will be discussing ways to get Montessori support for Guides that want to improve their Montessori journey.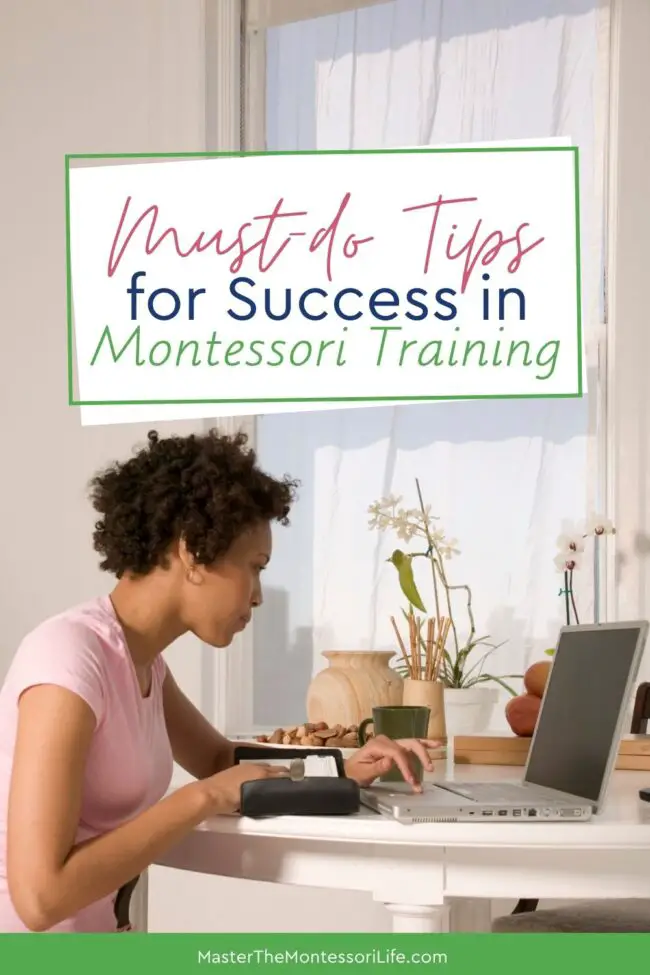 Watch & Listen to the Episode Here:
As you watch or listen to this training, know that you will be able to get more information than what is included in this blog post.
However, I really want to encourage you to take the time to watch or listen and take notes.
Importantly, this will be helpful to you now and in the future.
#1 Get training from a trustworthy source
Many Montessori schools require that Guides engage in Montessori teacher training at least once a year, but it can vary from administration to administration.
Many of you are looking at alternative trainings because you might already have the Montessori certificate.
This is mainly to stay up-to-date on things and rekindle that spark and joy that you had at the beginning.
But if you are not working at a Montessori school and might be doing Montessori at home, you need training, too.
Because of this, most of you are not seeing formal certification for several reasons.
One of them is pricing and I don't blame you!
In-person and online Montessori training for certification can cost you a lot.
In this training, I want to focus on those trainings that are not for formal certification, but in all honesty, can be just as inspirational, motivational, educational and even more practical.
I highly recommend that you find sources for training that you can trust.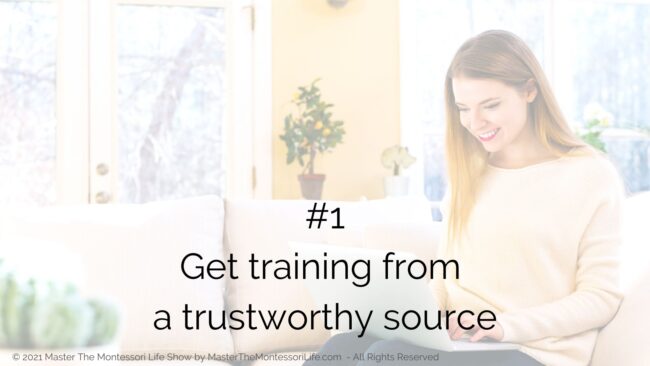 Pay Attention
By this, you need to pay attention to several things:
The amount of Montessori training that person has taken themselves
The number of years that the person has in Montessori classroom and other experience
How well they understand what the main issues others are having
What their teaching style is because it must be understandable and relatable
That their expectations are realistic, natural and positive
Let me give you an example… myself!
To apply myself to the above points, you will be happy to know that:
I have formal Montessori education certification plus countless less formal courses, programs, book clubs and more
I have 16 years of Montessori experience in teaching ages 0-3, 3-6, in homeschooling, in coaching one-on-one and coaching in a group setting
This point is paramount to boil all of it down to all of those limiting beliefs, obstacles and quicksand topics that most need help with
In time, I opted to use a number of teaching avenues. These include: written, online, live and recorded (audio and video). This way, it targets most learning styles.
When coming into a training situation, it is important to read the room and reach each person where they are at.
#2 Be ready to learn by being open-minded, inquisitive and interactive
Early childhood is one of the most special developmental times in young children's lives.
They develop and grow at a fast rate.
It is paramount that we focus on what their Sensitive Periods are in The Montessori Method so we can maximize their learning.
Because of this and other reasons, I have a deep desire to offer Montessori help for teachers.
But the desire to teach and guide can only go so far in regards to the Montessori environment, Montessori materials, lesson plans and more.
The Montessori Guides must want to learn as well.
For this, you must have some important qualities.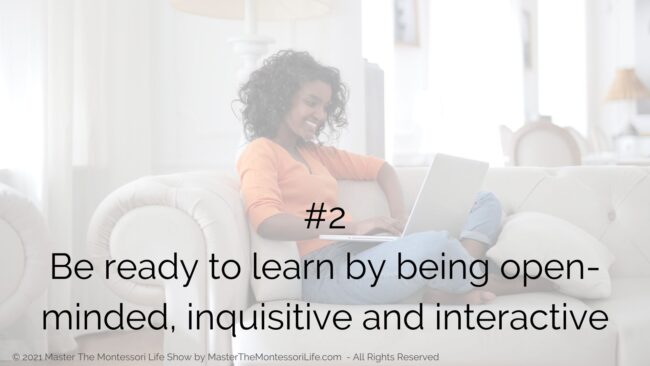 These are to be:
Open-minded
Inquisitive
Interactive
This is because you will come across some things that go directly against the grain of traditional learning.
If we don't approach this philosophy with an open mind to at least think things through, to ask questions and to become a participant in it, we won't get as much out of it.
#3 Be aware that there is a cost for Montessori coaching
Let's be completely honest about this point for a bit.
If you are seeking good quality, solid and trustworthy Montessori teacher training programs, they will cost you.
They will cost you something, so be prepared for that.
It might cost you:
Things worth having must cost you something.
Research shows that we don't appreciate free things as much as we do paid things.
In my experience, I agree.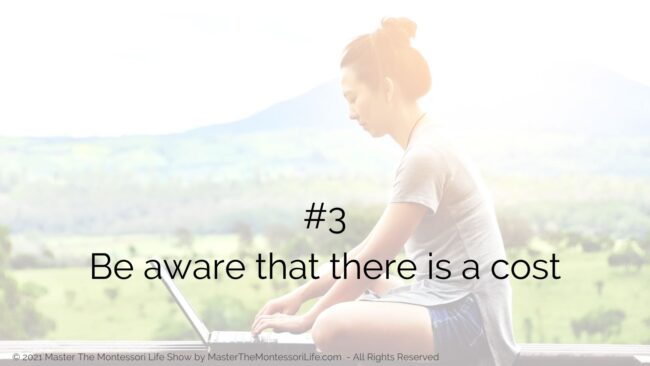 Workshops and other Trainings
I offer many free Montessori trainings from workshops to weekly live trainings, showinars and more.
As much as I love how eager my learners are, you should see the attitude and excitement I see in those that invest in their Montessori journey.
This investment comes in the way of purchasing a resource in the shop, hiring a Montessori coach or enrolling in The Montessori Way Foundations Framework.
The framework and the coaching are the most helpful as you would have me as your mentor and guide
I am wanting to highlight and mention this third point because I am making sure that you have realistic expectations when it comes to Your Montessori journey.
You can find a lot of great information for free out there, and in fact, I want to invite you to my free weekly trainings and our vault of past trainings on many Montessori topics (see resources section below).
But if you are at risk of seriously wasting so much time looking around if you are not finding the right sources quickly.
It can discourage you so much that it might make you give up altogether.
Also, remember how much more we value things that cost us.
So why go through 10 free things that might be a hit or miss on what you need when you could enroll in a framework that targets exactly everything that you have questions and limiting beliefs about?
Or why not invest in a series of Montessori resources that can get you closer to Your Montessori goals?
Just food for thought.
Key Takeaways for Montessori Education
Following and embracing The Montessori philosophy requires training.
These trainings must:
come from a reliable source
put you in a position of uncomfortableness (you will experience growing pains as you expand your Montessori knowledge)
and cost you something (time, space, effort, money)
You can and will be successful when you pay attention to and apply these important points.
Resources mentioned in training
Like I said at the beginning of the show, I have a FB group for all things Montessori that you are welcome to join. 
It is called The Montessori Way Prep Room.
If you want to join a homeschool Facebook community, then join The Natural Homeschool Community!
Here are some of the trainings you can start with: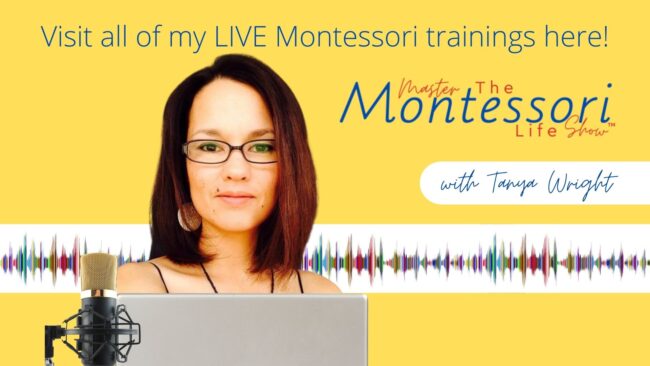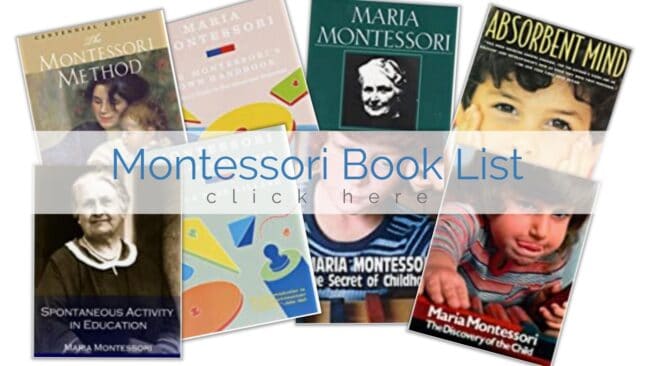 You May Also Benefit from these Important Montessori Topics:
As you learn more about Master The Montessori Life, you will realize just how much I strive to make your life easier.
I also seek to equip you, to inform you and to give you made-for-you options so you can keep moving forward on your Montessori journey without any speed bumps.