In this training, we will be focusing on how to go about using life cycle activities for Montessori Science, whether it is Botany or Zoology.
---
Science can be an incredibly hands-on topic, especially when taught in accordance with The Montessori Philosophy.
Children learn best when they are taught in a precise order in the Montessori Science curriculum for grades 3-6.
Botany is the first subject covered, but Zoology is soon followed.
When studying life cycles, you can incorporate both disciplines of science into your research (Zoology and Botany).
Both have a connection to the cycle of life.
Botany, for example, allows you to investigate the life cycles of many plants, such as the bean, apple, and pumpkin.
Likewise, in Zoology, you would be interested in studying the life cycles of creatures of all sizes, large and little.
If you want to learn how to become a centered, organized Montessori Guide, how to foster happy, adjusted children, and how to produce smooth, successful Montessori days, you've come to the perfect spot.
In the comments section, please tell me what you know about this issue, what you've tried that worked, and anything that didn't work, as well as any questions you have as we get started with this training. I'll respond to everyone individually.
In this training, we will be focusing on how to go about using life cycle activities for Montessori Science, whether it is Botany or Zoology.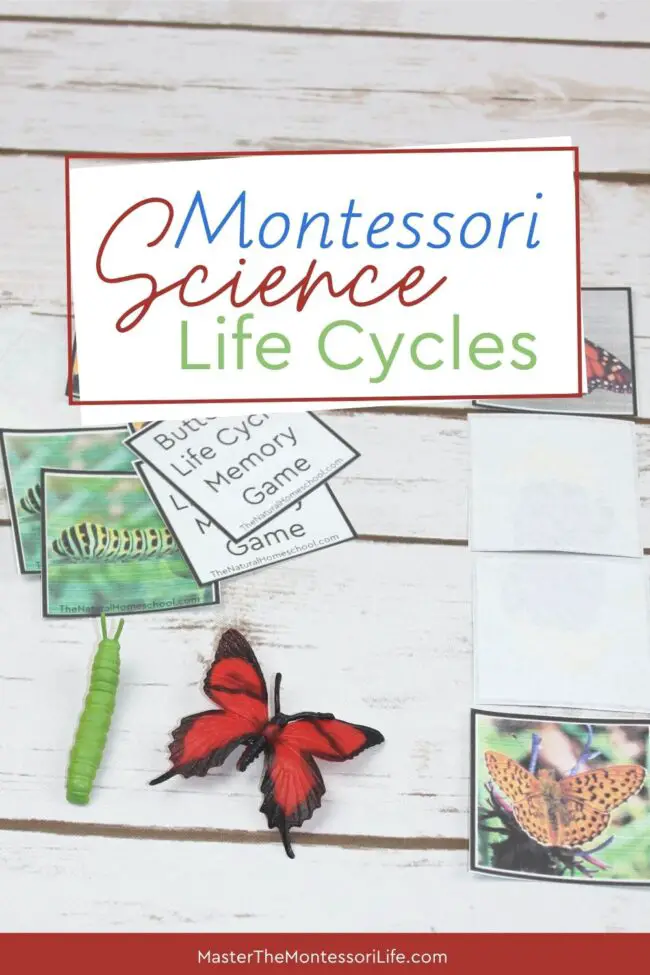 Watch & Listen to the Episode Here:
As you watch or listen to this training, know that you will be able to get more information than what is included in this blog post.
However, I really want to encourage you to take the time to watch or listen and take notes.
Importantly, this will be helpful to you now and in the future.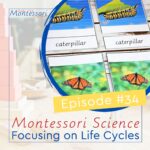 #1 Make Life Cycle Activities Hands-on, Interactive and Fun
It is critical that everyone understands that this is a top priority.
It is not only for the sake of keeping it entertaining for the children.
In no way, shape, or form. Despite the fact that it is a component of it, it is not the entire picture.
"Scientific observation then has established that education is not what the teacher gives; education is a natural process spontaneously carried out by the human individual, and is acquired not by listening to words but by experiences upon the environment."

Maria Montessori, Education For A New World
The reason you should take care to ensure that this is done correctly is that children learn best when they are actively involved in the process.
Instead of handing out a plant life cycle worksheet to a child, consider putting together a fantastic life cycle of a chicken art and craft project instead!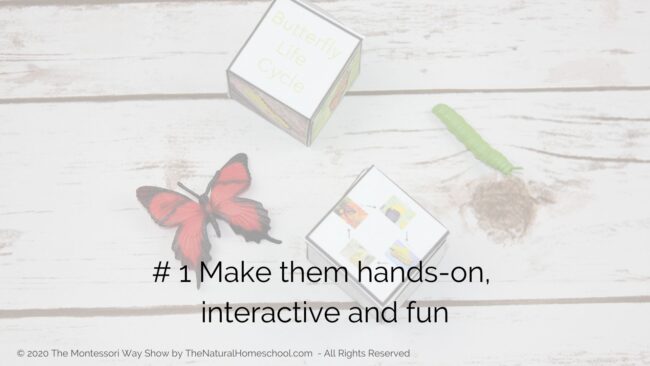 #2 Make Life Cycle Activities Visual, Realistic and Pleasing to the Eye
Do you believe that children would enjoy doing something as simple as making a chicken life cycle craft or simply filling out a worksheet would be enjoyable?
Anything that gets children to think, move, and read is a positive development.
A printable butterfly life cycle book is a good example of what I mean.
Keep things looking beautiful and appealing, and make certain that they arouse a sense of curiosity in children.
We especially need imagination in science. It is not all mathematics, nor all logic, but it is somewhat beauty and poetry

Maria Montessori
I particularly enjoy using printable wheels, which are two circles that overlap and are held together by a brad, as they are easy to make.
It is possible to see what is in the circle beneath the top circle because a window has been cut out of it.
Children will learn the order of the life cycle by turning the top circle of the butterfly life cycle wheel clockwise, as illustrated in the illustration above.
Each time the window is moved to a new section, the next stage of the life cycle is revealed to the viewer.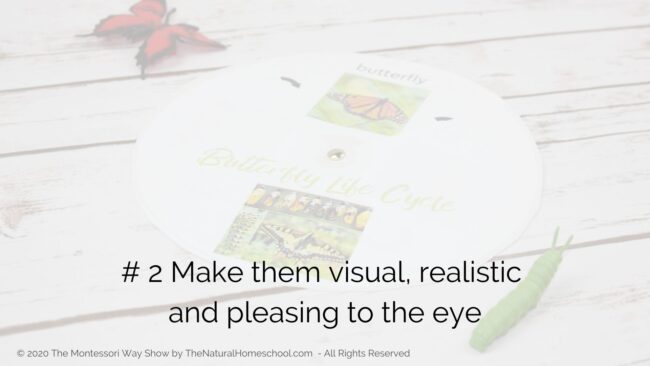 #3 Make Life Cycle Activities Clearly Educational
Remember that making things hands-on don't make them Montessori.
Remember that making activities lovely and pleasing to the eye does not make them Montessori.
Yes, Montessori activities are all those things, but they must also be educational.
Remember, they must have at least one main aim for learning.
They must be connected to at least one Montessori subject.
And they must teach a child something.
"Our work is not to teach, but to help the absorbent mind in its work of development. How marvelous it would be if by our help, if by an intelligent treatment of the child, if by understanding the needs of his physical life and by feeding his intellect, we could prolong the period of functioning of the absorbent mind!"

Maria Montessori, The Absorbent Mind
Keep that in mind whenever you are going to make something related to life cycles.
Don't just make a cute butterfly craft.
That might help the child learn an Art skill or practice fine motor skills.
But this won't teach the child about the actual life cycle of the butterfly.
Include more stages, even if you keep it really simple for toddlers.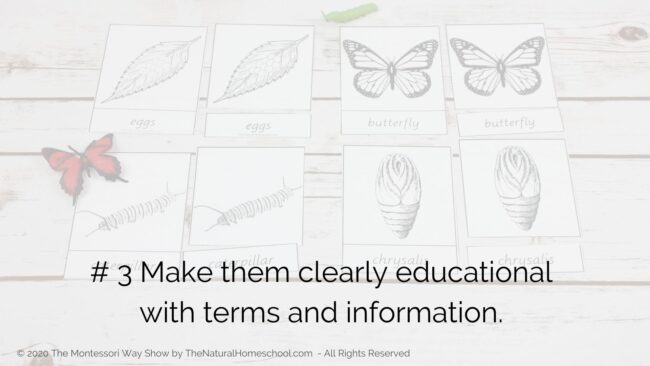 Key Takeaways
Teaching life cycles the Montessori way is very special.
Montessori life cycle works are a lot of fun because they are hands-on activities.
Kids will love to use 3-part cards as part of your Science activities.
I hope that you find it interesting and important to include lessons about different life cycles into your Montessori day.
You don't have to do too many at once, but I would do at least one Botany and one Zoology every few months.
Head over to MasterTheMontessoriLife.com (this blog's main page or just scroll up).
Go to the search window at the header of this blog and search for "life cycle."
You will see many ideas about this topic.
I know you will love it so much for your Montessori classrooms.
If you are interested, feel free to go to the shop as well.
We have some amazing bundles for different life cycles that will make your life easier.
HERE ARE THE RESOURCES MENTIONED IN THIS EPISODE:
Life Cycle Printable Bundles
Try a life cycle unit, the life cycle of a frog, a life cycle bundle about the soy bean plant and other great lesson plans.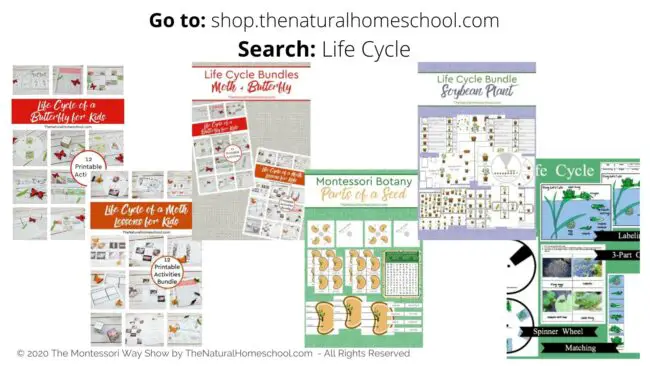 Like I said at the beginning of the show, I have a FB group for all things Montessori that you are welcome to join. 
It is called The Montessori Way Prep Room.
If you want to join a homeschool Facebook community, then join The Natural Homeschool Community!
Visit our page with all LIVE trainings HERE.
Life Cycles: Everything from Start to Finish
How Does a Frog Grow? (Life Cycle Board Books)
OrgMemory Life Cycle Figurines, 20Pcs, Showing Kids The 4 Stages
In a Nutshell: A Life Cycle Nature Book for Kids
The Dandelion Seed: A Life Cycle Nature Book for Kids
The Human Life Cycle (TIME FOR KIDS® Nonfiction Readers)
You May Also Benefit from these Important Montessori Topics:
Montessori lovers: Are you ready to make yourself a centered, organized Montessori Guide, nurture happy children and create smooth and successful days?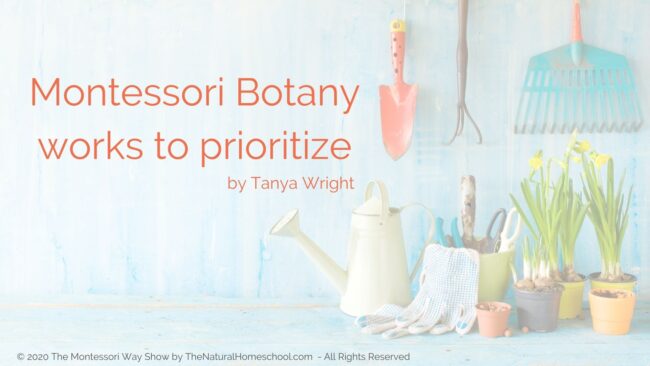 Acts of Service the Montessori Way

Are you trying to think of Montessori friendly ideas that will get your children into the giving spirit? In this episode, we will be looking at some great acts of service ideas that you can implement anytime, but especially around the holidays.

Practical Life Fine Motor Skills Printable Activity

In this blog post, we'll discuss the importance of fine motor skills and some fun ways to help your child develop them through a Montessori Practical Life activity.

The Role of Montessori Parts of Speech in Language Arts

Montessori Language Arts takes a distinct approach to teaching parts of speech, transforming what could be a mundane subject into an engaging, hands-on learning experience for children.