Let me help you a bit today by showing you one thing that you can do to shortcut a child's path to reading using this Montessori Language Arts resource.
---
When you are using the Montessori program at home or at a day care or school, you might be confused, unsure, or perhaps completely clueless about teaching children how to read. 
There is a tremendous amount of diversity in the world or reading.
There are many, many methods and ways to teach this very important skill.
I teach my child everything from when they wake up in the morning to when they go to sleep at night, including reading.
You might be asking yourself, "Where do I begin with it, though?" 
Language Arts is difficult, but a very important part of education because it teaches your child how to read, write and so much more. 
Let me help you a bit today by showing you one thing that you can do to shortcut a child's path to reading using this Montessori Language Arts resource.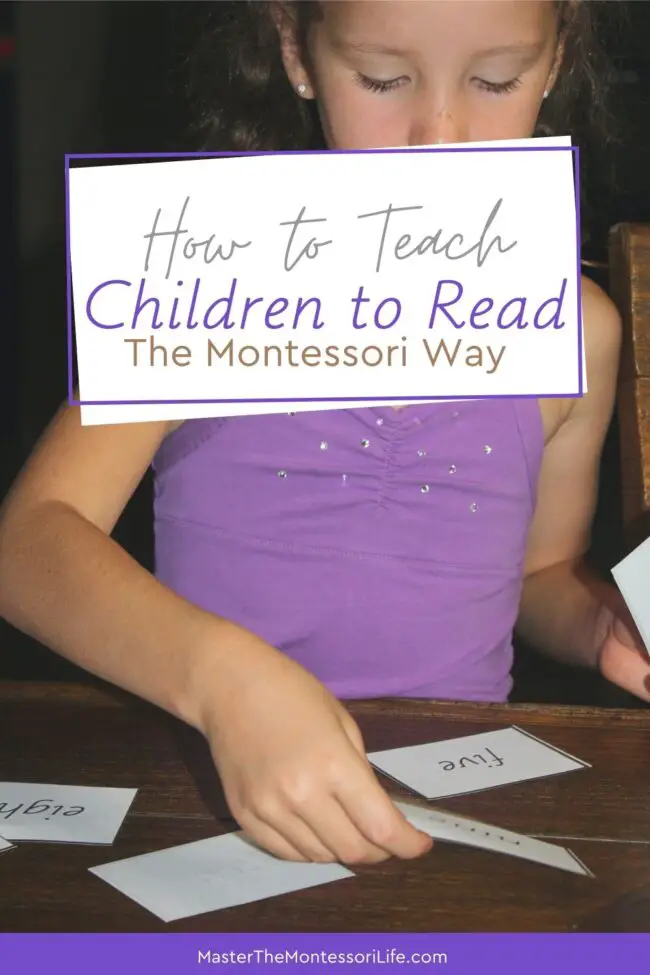 Montessori Language Arts Curriculum
As I said before, there are many learning ideas out there for learning to read, write and other Language Arts skills. 
It can be difficult to determine what kinds of activities will be the most helpful for teaching pre-reading, pre-writing, reading, and writing. 
A lot of it depends on the child and if the Language curriculum fits in well with their learning style.
But to teach reading correctly and language development don't have to be as hard as you think.
The materials provided by the Montessori method are exceptional, as they can be used for several different skills. 
Even if you can't (or don't want to) send your child to a Montessori school, that is OK.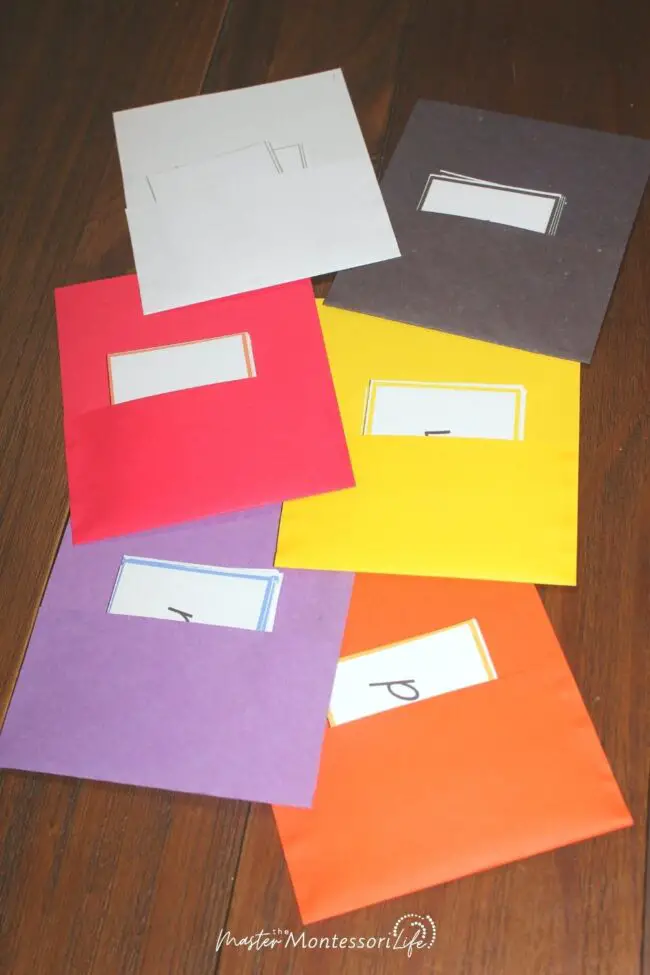 You can definitely give Your Montessori elementary child the Montessori education at home. 
The mission of Dr. Montessori was to reach all children, so rest assured that the Montessori Method can indeed be used at home. 
I'd like to point you in the direction of some of our favorite Montessori Language Arts materials, which we have found extremely helpful. 
As a parent, you want to know that your child will be a successful language learner, and these will get them there in no time!
Montessori Method to Teach Children to Read
Many people think that Dr. Maria Montessori was against teaching sight word reading, but that isn't accurate.
She did like the whole language approach, but she actually did find the value of children learning sight words.
Why is this skill so powerful, especially for struggling readers?
Well, because these are high frequency words (words that are found regularly in everyday reading) that will make reading easier and faster.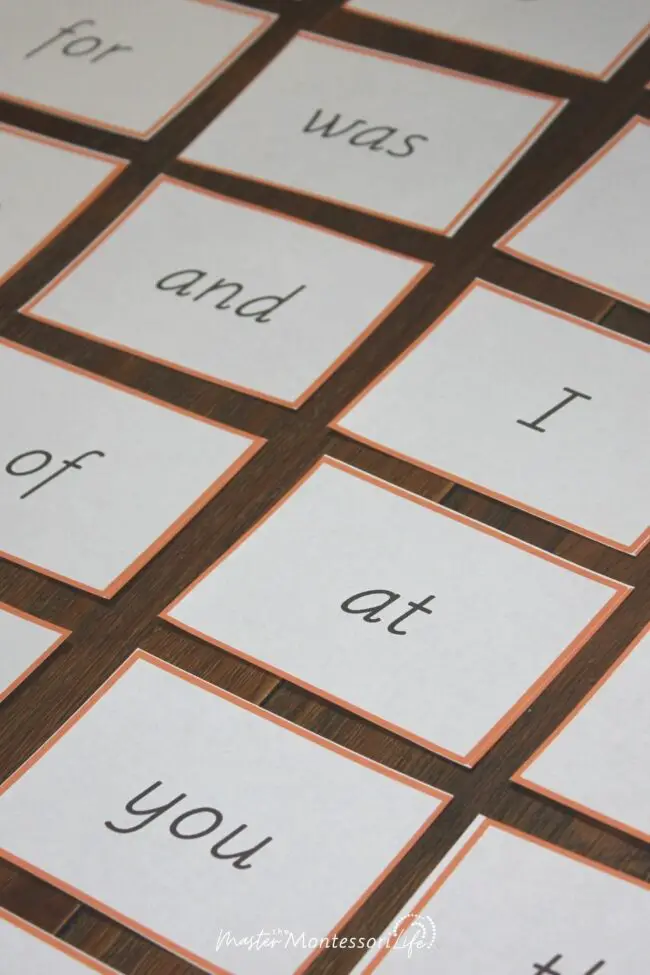 As children learn these words, they will be less frustrated when learning to read and they will be able to focus on those longer and harder words that need to be deciphered or decoded.
You can use these Montessori activities with young children to learn letter sounds, do a word study with upper elementary children and more.
So, this is not a Montessori classroom resource for one-year use.
How Do You Know Which Sight Words to Teach?
There are many educational professionals that have created lists of these high frequency words.
These lists vary by level of difficulty.
Most have opted to teach one list per traditional school grade.
But in Montessori, they are taught in The Montessori environments of ages 3 to 6.
Instead of you stressing out about finding the right words and teaching them correctly, why not take a look at the ready-made-for-you bundle?
This bundle includes an envelope template to store the six sets separately and a lesson plan to know how to teach this skill.
You can see my daughter in the photos in this blog post.
She literally used these six fantastic sight words sets to learn to read the high frequency words in her readers.
The six sets come in different colors to differentiate the different types of words.
I also made matching enveloped to keep these sight word card sets separate and organized.
Where to Find The Montessori Sight Words Bundle 
I have a package that includes several sight word sets with a lesson plan to help you understand what you should do and when to do it. 
This Montessori Language curriculum PDF is one that I highly recommend because it it right here, at your fingertips.
If you have an older child with reading problems or you want to teach a child to read, you can literally get it right now and start using it today!
I promise you this was a project done out of love for the parents and educators who are in need and who want their children to be successful.
The 6 sets of sight word cards in this package are ready for when you use them to pre-read.
Montessori Language Arts Sight Words Sets, Envelopes + Lesson Plan
$2.99
There is a great way for childen to learn Montessori Language Arts sight words and that is with this 6-set bundle with lesson plan.
---
There are many things that you can do to help children to read the Montessori way. One of the most important ones is teaching children sight words. In this bundle, you get 6 sets of sight words for children to learn to read. This includes the lesson plan and an envelope template to keep the different card sets.
EU BUYERS, GO HERE.
Once you take a look at these 23 pages of fantastic information, lesson plan, cards and more, you will be so glad you got them!
You May Also Benefit from these Important Montessori Topics:
As you learn more about Master The Montessori Life, you will realize just how much I strive to make your life easier.
I also seek to equip you, to inform you and to give you made-for-you options so you can keep moving forward on your Montessori journey without any speed bumps.
Do you need a Montessori Curriculum Starter Guide?
The Montessori Curriculum made easy
Montessori living books library
Episode 7: Montessori – Fantasy Friend or Foe?
Episode 11: Foreign languages the Montessori way