In this post, we'll walk you through a straightforward starting activity and pointers on what to pay attention to when it comes to Montessori transferring activities.
---
There are many Montessori activities that we call in the Montessori Practical Life subject: transfer works.
This is the act of moving one object from one place to another.
Babies and young children like toddlers begin doing this using their hands as tools.
As their movements become more refined, they can use their fingers (pincer grip).
In time, they can use other outside tools, such as tongs and tweezers.
These are great fine motor activities.
In this post, we'll walk you through a straightforward starting activity and pointers on what to pay attention to when it comes to Montessori transferring activities.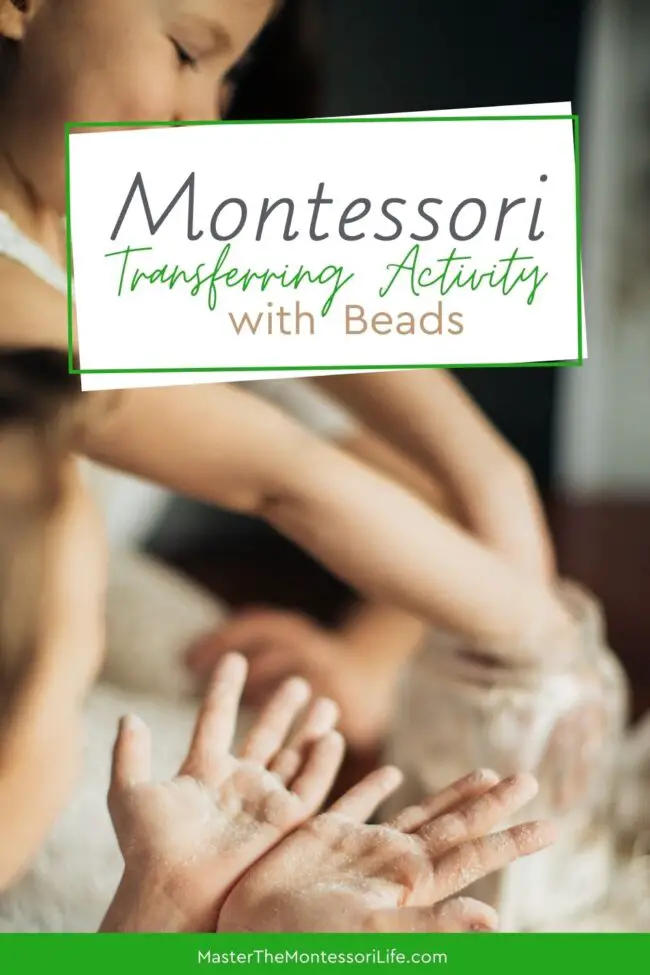 Montessori Transferring Activities Benefits
You can start to be more deliberate about organizing transferring activities at 18 months to 3 years of age.
Children develop fine motor skills in a big way during this time, so we can't leave it to chance.
There are literally hundreds of Practical life activities that involves transferring small items.
Sometimes, they move objects as small as grain of rice.
But why would this be a part of the Montessori subject of Practical life?
Because there are many benefits to it!
For example, the fine motor skills activities below can all be included as prewriting activities for children:
feeding cheerios through a pipe cleaner
rolling play dough with one's hands
drawing a picture between the lines
using tweezers and tongs
establishing the finger pincer grip to handle a dropper
cutting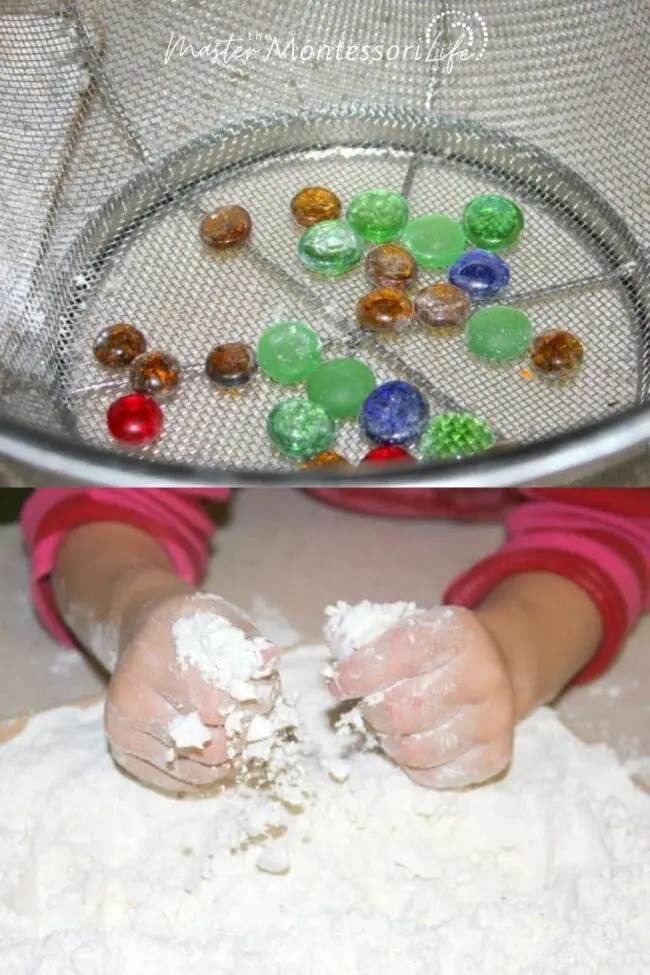 But transferring activities are important because they call for many special skills:
eye-hand coordination
dexterity
distance discrimination
control of movement
muscular strength
muscular isolation
proprioception
There aren't many official Maria Montessori materials that are used for this, so this is a great time to get creative!
You can start big, such as transferring balled up paper or aluminum foil from one bowl to another.
Then move to smaller items such as ping pong balls or cotton balls.
You can use coins, jingle bells, small erasers, breakfast cereal, etc.
You can also get creative in using transferring tools.
Like I mentioned before, you start out with hands, then fingers.
Eventually, you use tolls outside of the body.
Practical Life List
Are you interested in learning more about this amazing set of skills?
Would you like to shortcut your planning time and your child's success in going from dependence to independence?
Then grab this free download with a list of 100 activity ideas for Montessori Practical Life.
Get this free printable below!
Transferring Activity for Montessori Practical Life
The concept is straightforward:
about 2 cups of flour
a colander
about 1 dozen of glass beads
a slotted spoon (wooden or nylon)
These are all items that are readily available in most households.
However, there is more to this fine motor skills game than what meets the eye.
It delves deeply into the underlying function of fine motor skills.
As you can see, motor skills can be classified as either large motor abilities or fine motor skills.
Generally speaking, gross motor skills are activities that necessitate larger, more deliberate, but nevertheless coordinated motions.
These actions can include things like hopping on one foot, tossing a ball with one hand, catching a ball, and other similar things.
Fine motor skills require motions that are more deliberate, slower, and considerably more synchronized.
So, for this activity, gather your materials:
about 2 cups of flour
a slotted spoon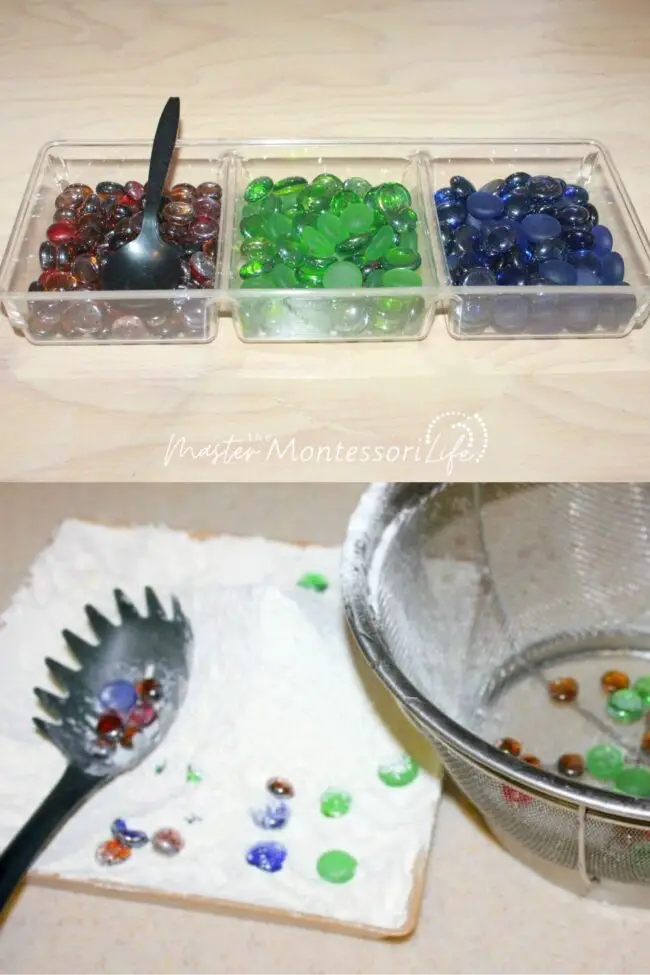 Set it up as the picture shows.
Let your child practice refining fine motor skills by working on his/her eye-hand coordination.
Spoon a bead out with the slotted spoon.
Shake the spoon to get the flour off the spoon.
Place the glass bead in the colander.
Repeat.
Simple, right? Are you ready to try it with your child?
Key Takeaways
Fine motor skills are essential in child development.
Transferring activities are a part of these fine motor skills.
Transferring activities are part of the Montessori subject called Practical Life.
There are hundreds of different transferring activities.
Always begin transferring activities using hands as tools.
Then use fingers as transferring tools.
Finally, move onto using tolls such as tongs, spoons and chopsticks.
Also, move from larger items to smaller, depending on how the child's movements become more refined.
CTA
You might also enjoy these blog posts on relevant topics:
Episode 8: 3 Montessori Method Practical Life Transferring Activities
It will help you understand how to set up dozens of Montessori Practical Life transferring activities and will set up the children for success.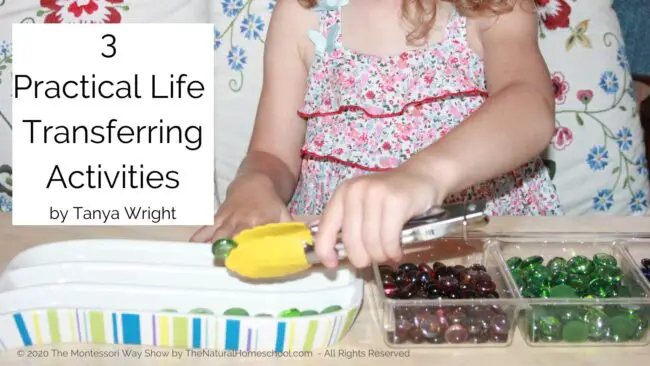 Montessori Friendly Summer Printable Bundle

With this summer bundle, you will be equipped with everything you need to keep your children occupied and having a wonderful time while remaining indoors and celebrating summer from the comfort of your own home.

Do you need help in doing Montessori right?

Do you need help in doing Montessori to make sure that you are doing it right? Come and find out how to know what to focus on first, actionable steps to apply immediately and more!

Planning Montessori at Home (digital book)

Do you want to plan your Montessori at home, but don't know where to start? This 65-page digital book is going to give you the guidance you need to do it right from the beginning. There are some tips and tricks that many don't know will shortcut their planning by a lot.