In this article, you will find out how to use Montessori Geography lessons to teach children about world landmarks and monuments.
---
There are many ways to teach Geography for children to learn about their world.
Yes, most of the time you will need maps, but not always.
There are many other hands on activities with Montessori materials for this subject.
See, I have shown you how you can teach children about many parts of Geography, not just maps.
You can use puzzle maps, land and water forms, continent boxes, flags of the world and more.
In this article, you will find out how to use Montessori Geography lessons to teach children about world landmarks and monuments.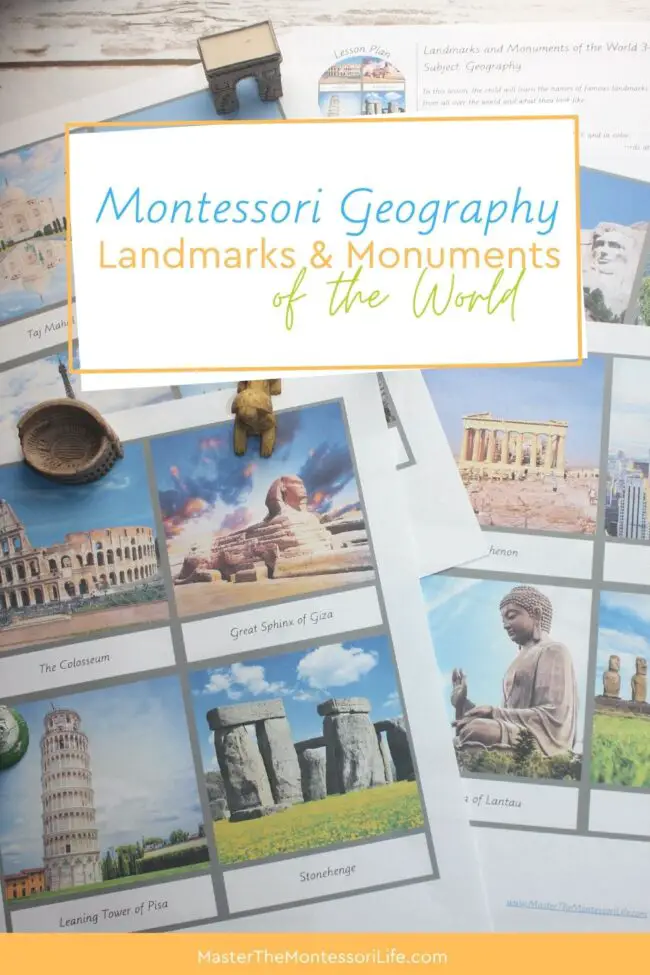 Montessori Geography
When you are looking for Montessori Geography activities, you might be wondering which way to go.
Like I said, you can go with puzzle maps.
Apt Education Montessori Puzzle Toy North America Map

Apt Education Montessori Puzzle Toy South America Map

Montessori USA Map Puzzle for Kids with Labeled USA Control Map – Montessori Preschool Geography Toys & Gifts for Boys & Girls Ages 3-5-7 and Up – Wooden United States Puzzle Map for Kids

Kid Advance Montessori Australia Puzzle Map with Control Map

Montessori Africa Puzzle Map (Without Control maps)

Kid Advance Montessori Puzzle Map of World Parts

As you can clearly see above, they are beautiful and very useful, but they take up a lot of space.
We have the cabinet shelf made for these and all 8 puzzle maps (North America, South America, Europe, Africa, Asia, Australia, the United States and the World).
If you have limited space, you might want to think this through.
You can come up with ways to get the right materials to teach Geography, monuments, landmarks, flags and more without breaking the bank and without them taking up too much room in Your Montessori environment.
While Montessori schools tend to have a lot more room than those doing Montessori at home, they are also starting to think about ways to have more materials without making the classroom look or feel crowded or cluttered.
The lovely thing is that in Montessori education, you can be more open-minded and use Montessori inspired materials without compromising teaching kids the Montessori way.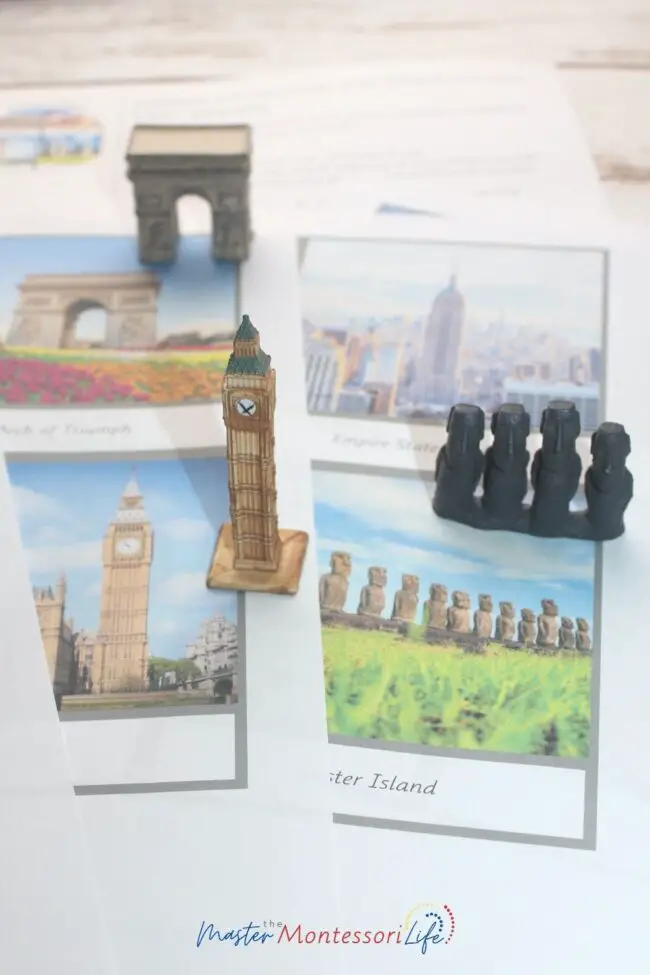 Montessori Geography Materials
When you go about showing children the big picture of what the world is like, it is also fun and important to teach children about popular monuments and landmarks in different continents and, for that matter, in different parts of the world.
As much as we wold love to take children to the physical Geography places, it is mostly impossible, so we do the next best thing.
We show children these monuments and landmarks in the way of beautiful, attractive and colorful photos.
This can be done in the way of 3-part cards, of course!
But why stop there?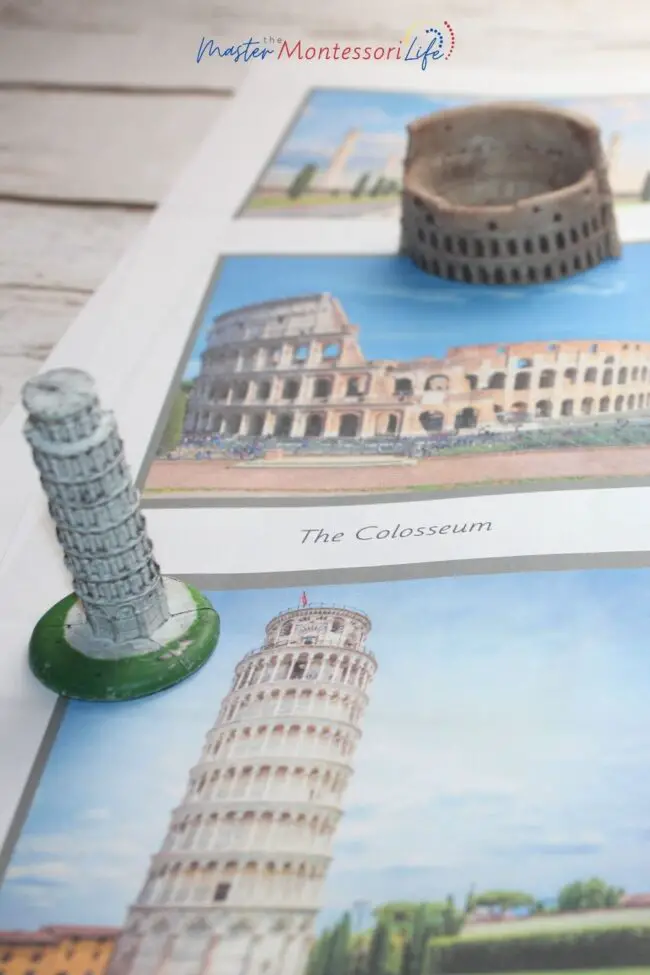 We can also use lovely landmark and monument mini replicas, like the ones you see in the photos in this article as well as below.
So, when you get the lesson plan and the printable 3-part cards below, be sure to consider getting the mini replicas as well.
This is because they fit in perfectly with the things I mentioned at the beginning.
They don't take up a lot of room, they are attractive and they go well with the Montessori way.
Safari 679604 Around the World TOOB, 10 Figurines

Safari Ltd World Landmarks TOOB

Safari Ltd 699304 Ancient Egypt TOOB

They can be used for this lesson and many others.
In fact, we keep ours in their respective continent boxes and take them out whenever we are needing them for this particular activity.
Montessori Geography Curriculum PDF
Here is the bundle that I have been showing you in the article. It is completely affordable and beautiful.
Not only is it pleasing to the eye, but it is educational in nature.
It includes the lesson plan with step by step instructions on how to use these 3-part cards and the 3-part cards for monuments and landmarks.
These landmarks and monuments include: The Colosseum, Great Sphinx of Giza, Leaning Tower of Pisa, Stonehenge, Taj Mahal, Arch of Triumph, Eiffel Tower, Big Ben, Parthenon, Empire State Building, Buddha of Lantau, Easter Island, Mount Rushmore, Christ the Redeemer, Machu Picchu, Kremlin.
Montessori Culture Landmarks and Monuments of the World 3-Part Cards + Lesson Plan
$2.99
There are so many famous and amazing landmarks and monument all over the world. Many, we can visit, but others might be too far away. This is not an excuse to not learn about them, right? With this activity, children will be exposed to 16 fantastic pictures (in 3-part card form) to places from around the world. It includes a detailed step by step lesson plan.
These landmarks and monuments include:
The Colosseum
Great Sphinx of Giza
Leaning Tower of Pisa
Stonehenge
Taj Mahal
Arch of Triumph
Eiffel Tower
Big Ben
Parthenon
Empire State Building
Buddha of Lantau
Easter Island
Mount Rushmore
Christ the Redeemer
Machu Picchu
Kremlin
EU buyers, click here.
You might also enjoy these relevant topics: