Come and find out what Circle Time is and why you should definitely conside it for your homeschool and your Montessori environment.
---
What is Circle Time and why should you consider it in your Montessori environment?
Come and find out what Circle Time is and why you should definitely consider it for your homeschool and your Montessori environment.
Do you understand what Circle Time is and how it is implemented in the Montessori Curriculum for children ages 3-6?
Have you ever tried Circle Time before? If not, you should because it sets the tone for the day.
Share how things turn out and what you decided to include.
If you haven't heard of Circle Time before, come learn what it is and why you should consider incorporating it into your homeschool or Montessori environment.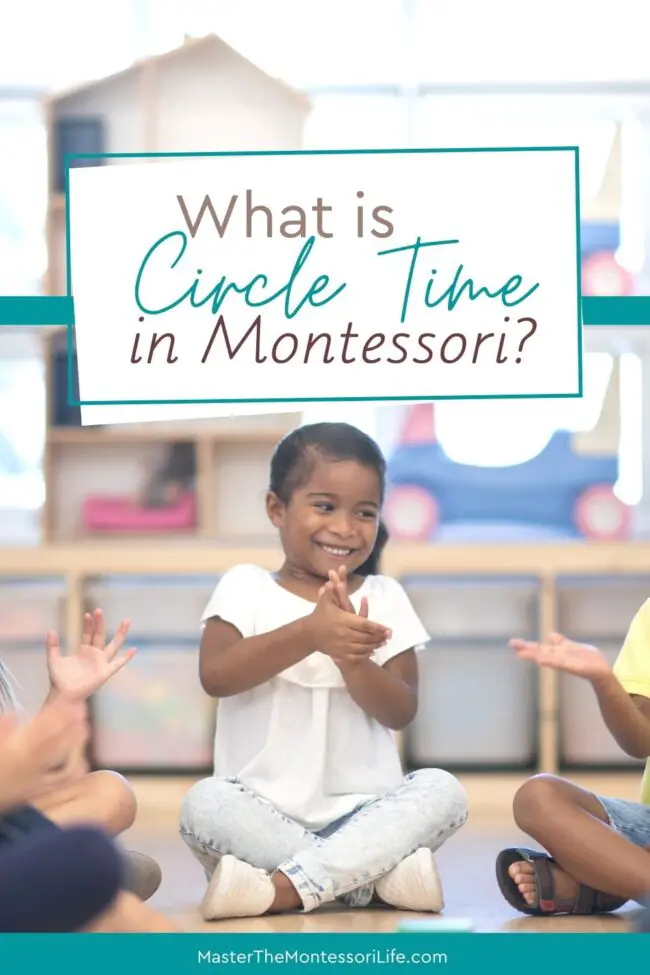 Watch & Listen to the Episode Here:
As you watch or listen to this training, know that you will be able to get more information than what is included in this blog post.
However, I really want to encourage you to take the time to watch or listen and take notes.
Importantly, this will be helpful to you now and in the future.
What is Montessori Circle Time?
It is a time when you can get together with a larger group of children.
If you are familiar with the Montessori philosophy, you will be aware that the vast majority of works are independent and individual in character.
Individual sessions with the Montessori Guide are common, but group sessions with the Montessori Guide are more uncommon.
Circle Time is an excellent opportunity to bring everyone together.
You can have one longer Circle Time meeting or two shorter ones can be held per day, depending on your schedule.
You should try to have one first thing in the morning, but if your mornings are too hectic or full, you can split it into two shorter sessions.
One Circle Time can be held first thing in the morning when the children first arrive in the Montessori environment, and the second can be held at any time after that.
Depending on the group, some prefer to do the second Circle Time before lunch, while others prefer to do it after lunch, and still others prefer to do it at the end of the school day.
Children are winding down and getting ready to go home at the end of the day.
It is an excellent way for them to reflect on what they have learned, what they enjoyed about the day, and so on.
It is an opportunity to assist in normalizing children.
During Circle Time, you can use a variety of activities and tools to assist children in becoming normalized, as Maria Montessori would say, more quickly than they otherwise would.
Normalization is the process of becoming acclimated to the Montessori environment.
This way of thinking means that you can definitely come up with different ideas during Circle Time to assist them in this capacity.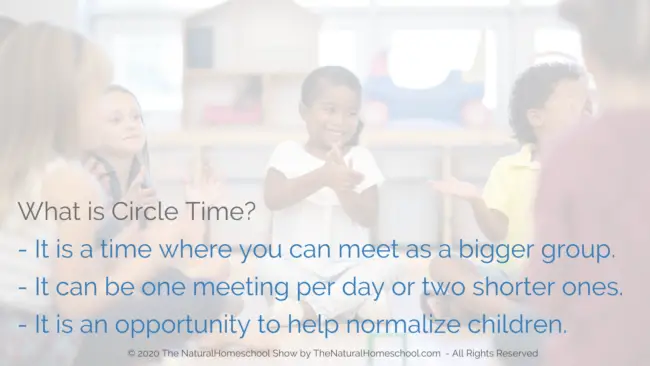 Why you should consider Circle Time for your Montessori environment
Circle Time can help extroverted young children have a chance to thrive at social interaction, if they are given the opportunity.
Consider how much social children thrive when they are able to spend time with other people.
When they interact with peer groups before the work cycle, their little spirits shine through.
Because the Montessori philosophy includes many works that are intended for individual use, these children are not socializing as much as they would like in their environment.
Because of this, Circle Time is probably the thing that they look forward to the most.
It might be easier to do in a Montessori school, but if you are doing it at home, it is also a perfect chance to work on something together instead of independently.
Circle Time provides an opportunity for introverted children to develop their interpersonal skills.
Take a look at the other side of the coin in regards to this group activity.
Our introverted children are given the opportunity to connect with others, make friends, and take on leadership roles, among other things.
Isn't that a wonderful thought?
Even though children are not required to participate in Circle Time activities, the majority of them do.
This is because they enjoy them so much.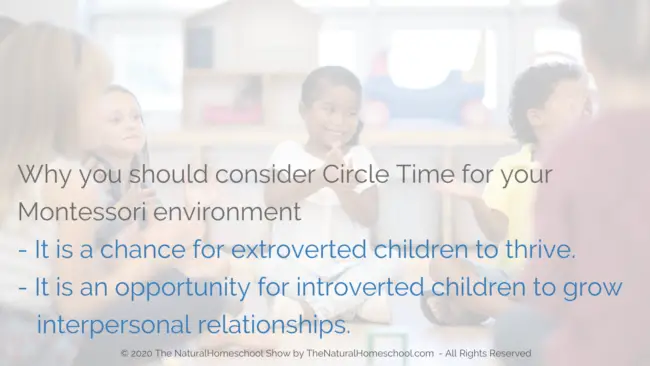 Morning Meeting Ideas for Social Emotional Learning
Circle Time provides children with an opportunity to practice their public speaking skills.
Everything you do today will be contributing to the development and creation of the future adults of the future.
You are accomplishing this by providing children with opportunities to learn several things.
Things like how to speak in public, how to come up with reasonable topics to talk about, and how to answer questions in a calm manner.
During Circle Time, you'll need to brainstorm and consider a variety of different approaches to coming up with these opportunities.
This morning meeting for children (Circle Time), provides a forum for discussing important issues in a relaxed setting.
Earlier, we discussed the concepts of normalization and adjustment.
This is exactly what this is all about.
Circle Time is ideal if you have rules that need to be reiterated.
Or maybe a specific activity that everyone must learn, or an announcement that needs to be made.
You can also do Science experiments during Circle Time.
This is if you have a science experiment that requires supervision and that you are unable to supervise all day.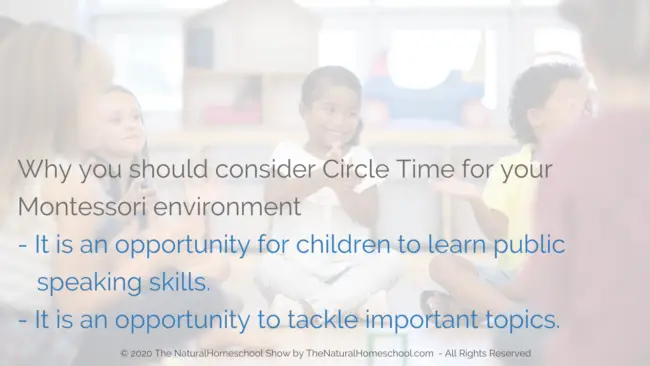 How Does This Connect with the Montessori Philosophy?
Circle Time was included in Maria Montessori's schedule nearly a century ago, when she was still alive.
It was a significant and consistent component of their daily routine at the Casa dei Bambini.
Are you willing to give Circle Time a shot?
In this post, we discussed the WHAT and the WHY of Circle Time.
But I go into much greater detail about HOW to carry out Circle Time within The Montessori Way Foundations Framework.
Step by step instructions are provided, as well as a printable Circle Time set to get you started and on your way to success!
More information can be found HERE.
You might also like: