For Guides who desire to advance their Montessori journey, we will cover options to obtain quality Montessori training.
---
Montessori training and education are almost as diverse as Dr. Maria Montessori's books.
Some of it is only available in person (like a university course).
Some exclusively use remote learning (online), while others are hybrid (part in person and part online).
For professional growth, there are both live events and recorded events.
Additionally, both official and informal sessions are offered at training facilities.
Some sessions are based on the Montessori books, while others just utilize them as a quick reference to help make things more real-world-relevant.
The Montessori Philosophy may be learned in a variety of methods, as you can see.
I'm not talking about formal Montessori teacher certification here.
I'm concentrating on Montessori education that advances your Montessori objectives in ways other than via official Montessori certification.
We'll talk about getting Montessori help for Guides who wish to advance their Montessori education throughout our training.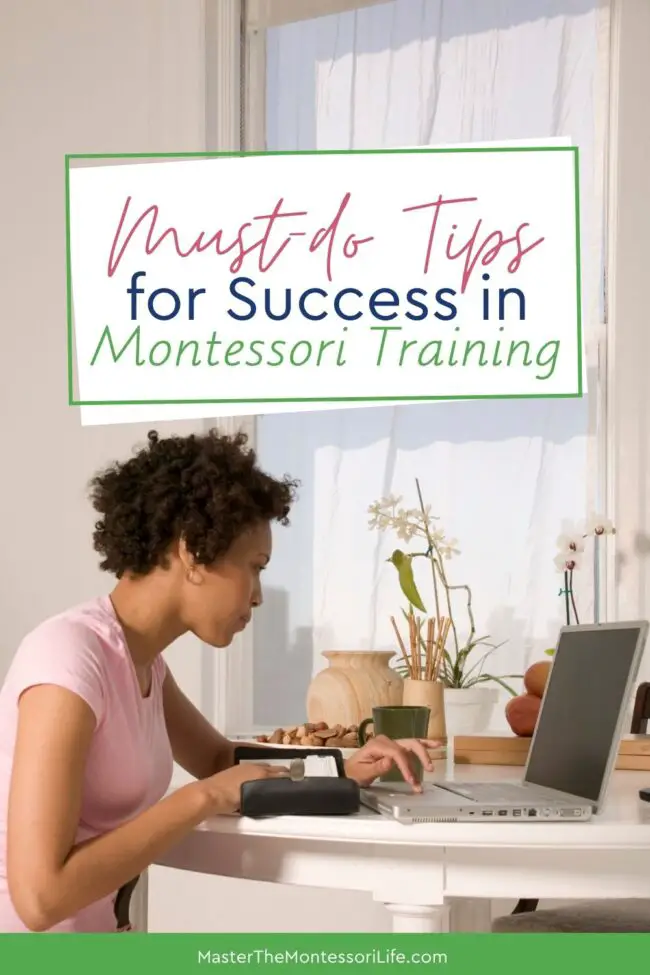 Watch & Listen to the Episode Here:
As you watch or listen to this training, know that you will be able to get more information than what is included in this blog post.
However, I really want to encourage you to take the time to watch or listen and take notes.
Importantly, this will be helpful to you now and in the future.
#1 Get instruction from a reliable source
It might vary from administration to administration, however many Montessori schools demand that Guides participate in Montessori teacher training at least once a year.
Since many of you may already possess the Montessori certification, you are looking at alternate programs of study.
The major purpose of this is to keep up with current events and reignite the enthusiasm and spark you felt at first.
However, you also require training if you plan to practice Montessori at home rather than working in a Montessori school.
For a variety of reasons, the majority of you are not seeing official certification as a result.
Pricing is one of them, and I don't blame you!
The expense of Montessori certification training, both in-person and online, may be high.
I want to concentrate on non-certification trainings in this training since they may be just as motivating, instructive, inspiring, and even more useful than conventional certification programs.
I strongly advise you to look for reliable training sources.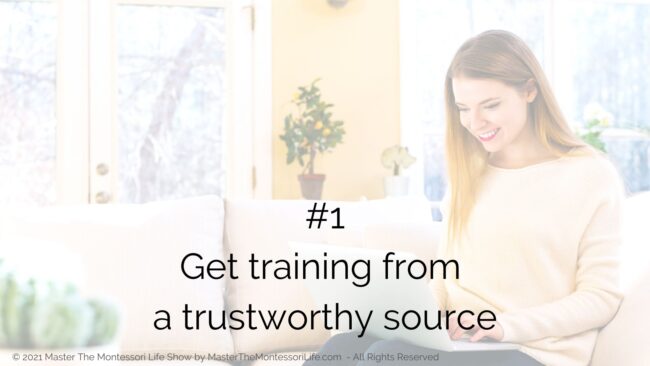 Take Notice
As a result, you must pay attention to the following:
How much Montessori training they have had personally
The duration of the individual's time spent in a Montessori classroom as well as their other experiences
How effectively they comprehend the primary concerns that others have
What kind of instruction they provide since it needs to be clear and relevant
that they have reasonable, natural, and optimistic expectations
Let me give you an example… myself!
To apply myself to the above points, you will be happy to know that:
In addition to my formal Montessori certification, I have completed innumerable informal courses, seminars, book clubs, and other activities.
I have sixteen years of Montessori teaching expertise with ages 0-3, 3-6, in homeschooling, one-on-one coaching, and group coaching.
This idea is crucial because it helps focus everything on the issues that require the most assistance, such as quicksand beliefs, hurdles, and quicksand situations.
I eventually decided to employ a variety of instructional methods. Written, online, live, and recorded are a few of these (audio and video). It targets the majority of learning styles in this way.
It's critical to read the room when entering a training session and meet everyone where they are.
#2 Be open-minded, curious, and participatory so that you may learn
One of the most unique growth periods in young children's life is early childhood.
They grow and develop quickly.
In order to maximize their learning with the Montessori Method, it is crucial that we concentrate on what their Sensitive Periods are.
I have a strong desire to provide Montessori assistance for teachers because of this and other factors.
But in terms of the Montessori atmosphere, Montessori materials, lesson plans, and other aspects, the desire to instruct and mentor can only go so far.
The Montessori Guides also need to be eager to learn.
You need to possess a few key traits for this.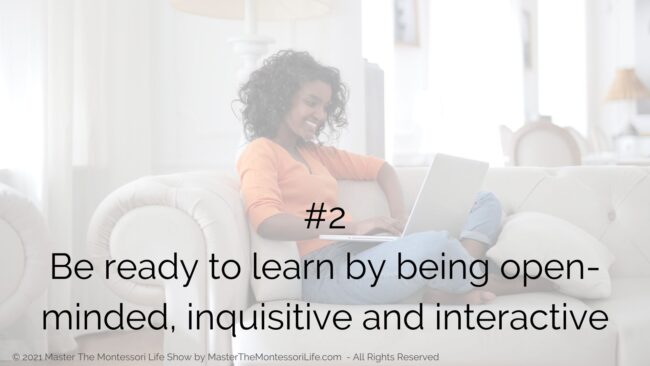 These should be:
Open-minded
Inquisitive
Interactive
This is due to the fact that you may encounter some concepts that directly contradict conventional wisdom.
We won't benefit as much from this idea if we don't approach it with an open mind to at least consider it, ask questions, and participate in it.
#3 Be advised that Montessori training is not free
For a moment, let's be fully honest on this topic.
It will cost you money to find Montessori teacher training programs that are of high caliber, reliability, and trustworthiness.
They will cost you something, so be prepared for that.
It might cost you:
Things worth having must cost you something.
Research shows that we don't appreciate free things as much as we do paid things.
In my experience, I agree.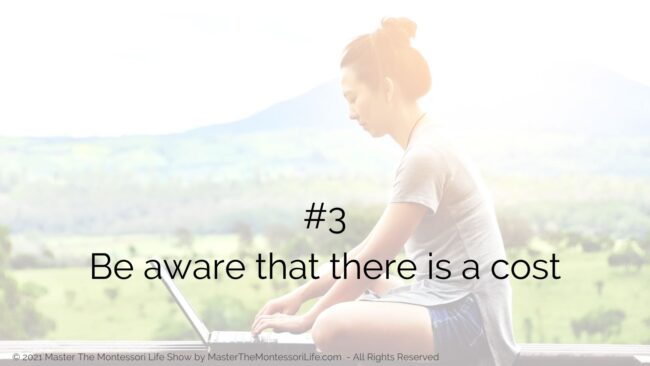 Coaching, Workshops and other Trainings
I provide a variety of free Montessori trainings, including workshops, live trainings every week, webinars, and more.
You should see the enthusiasm and joy I see in individuals who invest in their Montessori journey, as much as I appreciate how enthusiastic my students are.
This investment comes in the way of purchasing a resource in the shop, hiring a Montessori coach or enrolling in The Montessori Way Foundations Framework.
The coaching and framework are the most beneficial since they simulate having me as your mentor and advisor.
To ensure that you have reasonable expectations for your Montessori journey, I want to emphasize and call attention to this third issue.
There is a ton of excellent information available for free, and I actually want to welcome you to my free weekly trainings and our archive of previous trainings on a variety of Montessori-related topics (see resources section below).
But if you don't locate the appropriate sources immediately, you run the danger of significantly squandering a lot of time browsing about.
It may make you give up completely since it might be so discouraging.
Keep in mind that we value things that cost us more.
So why not enroll in a framework that specifically addresses all of your concerns and limiting beliefs rather than trying out 10 free items that may or may not be what you need?
Or why not invest in a series of Montessori resources that can get you closer to Your Montessori goals?
Just food for thought.
Key Takeaways for Montessori Education
Following and embracing The Montessori philosophy requires training.
These trainings must:
come from a reliable source
put you in a position of uncomfortableness (you will experience growing pains as you expand your Montessori knowledge)
and cost you something (time, space, effort, money)
You can and will be successful when you pay attention to and apply these important points.
Resources mentioned in training
Like I said at the beginning of the show, I have a FB group for all things Montessori that you are welcome to join. 
It is called The Montessori Way Prep Room.
If you want to join a homeschool Facebook community, then join The Natural Homeschool Community!
Here are some of the trainings you can start with: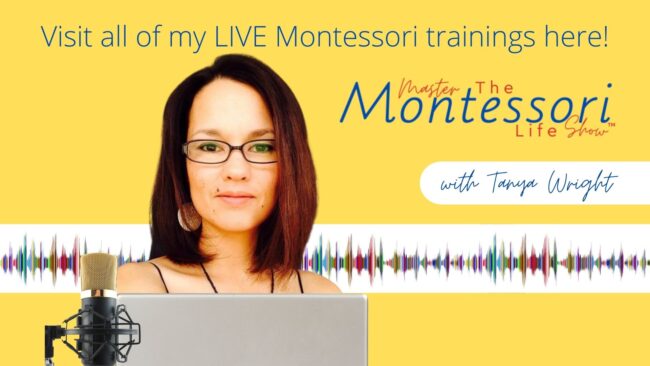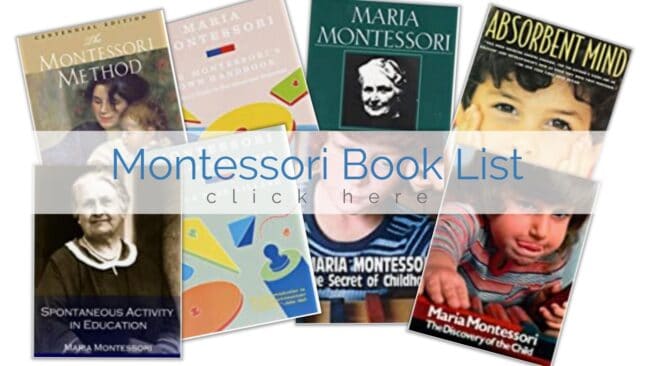 You May Also Benefit from these Important Montessori Topics:
As you learn more about Master The Montessori Life, you will realize just how much I strive to make your life easier.
I also seek to equip you, to inform you and to give you made-for-you options so you can keep moving forward on your Montessori journey without any speed bumps.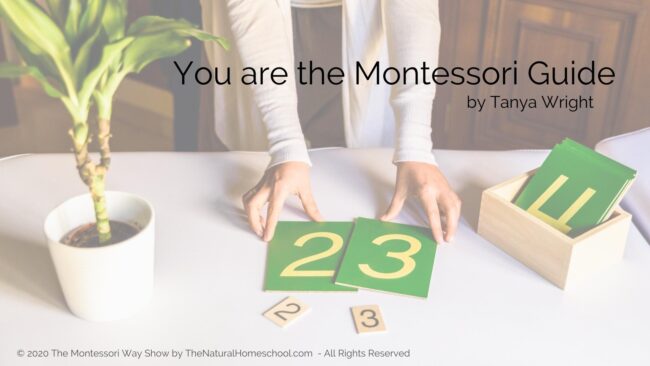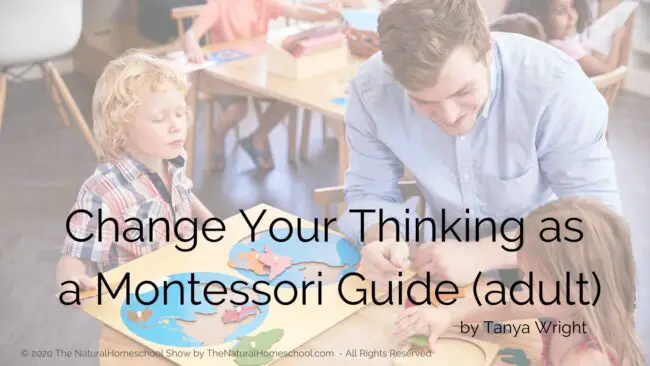 Acts of Service the Montessori Way

Are you trying to think of Montessori friendly ideas that will get your children into the giving spirit? In this episode, we will be looking at some great acts of service ideas that you can implement anytime, but especially around the holidays.

Practical Life Fine Motor Skills Printable Activity

In this blog post, we'll discuss the importance of fine motor skills and some fun ways to help your child develop them through a Montessori Practical Life activity.

The Role of Montessori Parts of Speech in Language Arts

Montessori Language Arts takes a distinct approach to teaching parts of speech, transforming what could be a mundane subject into an engaging, hands-on learning experience for children.