Montessori Math Materials offer an engaging, practical method to learning mathematics for children of all ages. Montessori Math Materials include manipulatives such as counting rods, number cards, beads, coins, and other objects that allow students to explore the relationships between numbers and quantities.
With these materials, teachers can create meaningful activities that help students learn foundational skills like addition, subtraction, multiplication and division in an interactive environment.
By using Montessori Math Materials in their classrooms or homeschools settings, parents and educators can give their children the tools they need to become successful mathematicians! In this post, I am going to be sharing with you the importance of children using hands-on Montessori Math materials in the early years of development.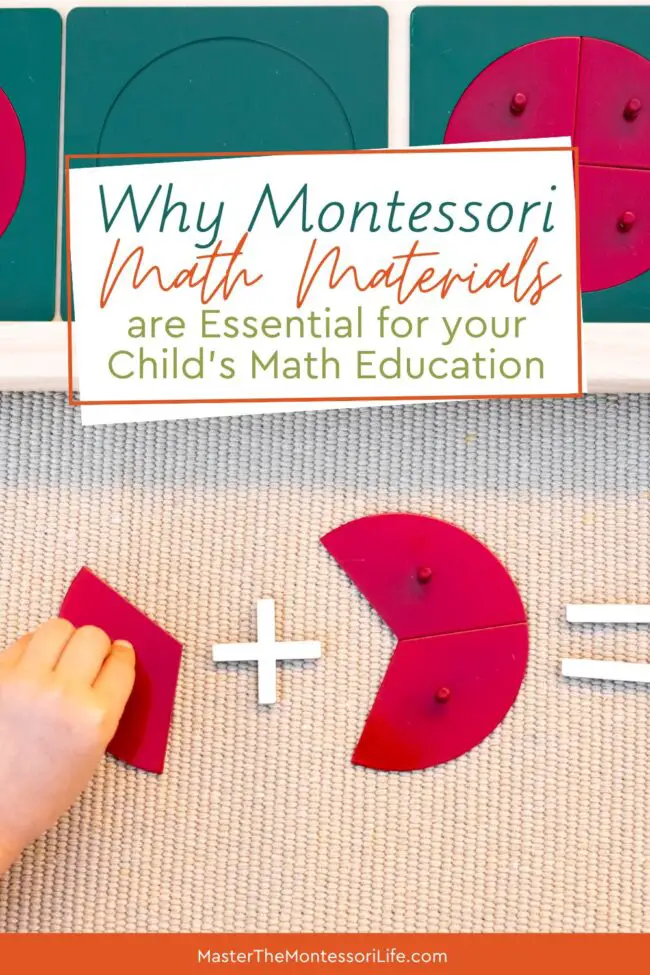 Montessori Math Materials strengthen Concrete Learning vs Abstract Learning
As you may know, about 90% of children are tactile or kinesthetic learners. That means that they learn best by moving and touching. That is why the Montessori Method is so successful in child education. With Dr. Maria Montessori's keen observations of children, she discovered this and prepared an environment that was way ahead of its time.
Montessori Math Materials, as most Montessori materials, provide a fun and hands-on approach to learning mathematics. These materials are designed to help children develop an understanding of basic math concepts in a creative and engaging way. They are constantly strengthening their concrete learning in the early developmental years (birth until about 6 years of age) as opposed to abstract learning, which comes later.
These materials provide an important foundation for concrete learning in the early years of development because they are hands-on, tangible, manipulative. Children are able to explore, tinker with and discover using materials made out of natural wood, beads, glass, cloth and other natural materials.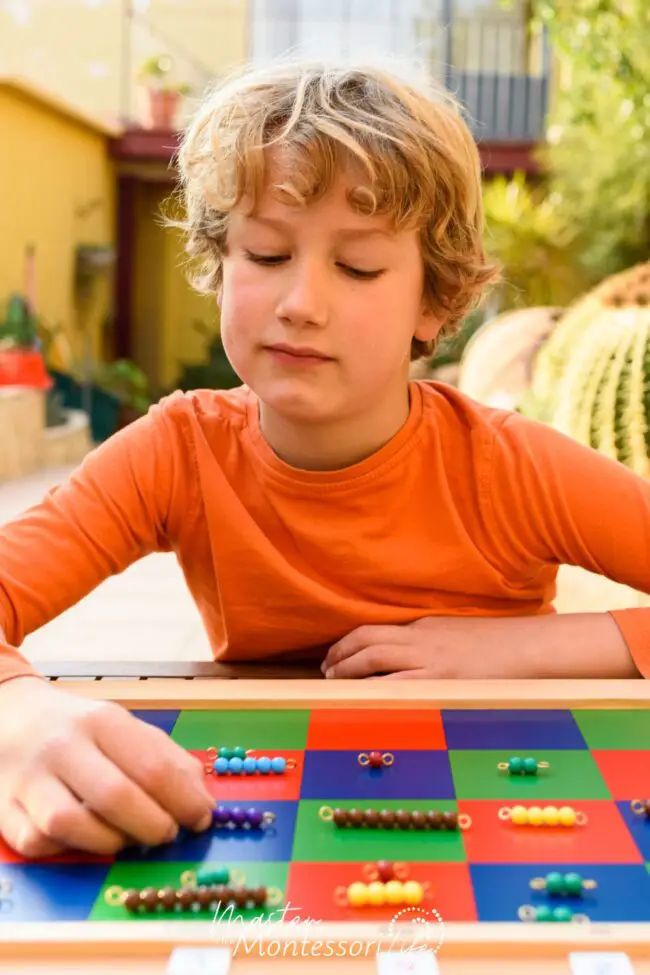 The Benefits of Montessori Maths Materials in Early Years
In the early years, children learn best when they are able to explore and manipulate their environment. Montessori math materials give children this opportunity by providing them with concrete objects that help them understand abstract concepts.
Additionally, working with these materials can help students develop important skills like problem solving and critical thinking. Overall, the use of Montessori math materials is an effective way for educators to support early learning in mathematics while also fostering a creative and interactive learning environment!
It is important to create and set up a beautiful and appealing Montessori environment (classroom) that invites children to explore and provokes children to use the hands-on materials. Don't worry, abstract (mental) learning will come; we just need to give children a more solid foundation with concrete learning first.
I go more in depth on this topic inside The Montessori Way Foundations Framework, which can be greatly beneficial for you, especially if you are interested in taking your Montessori journey seriously.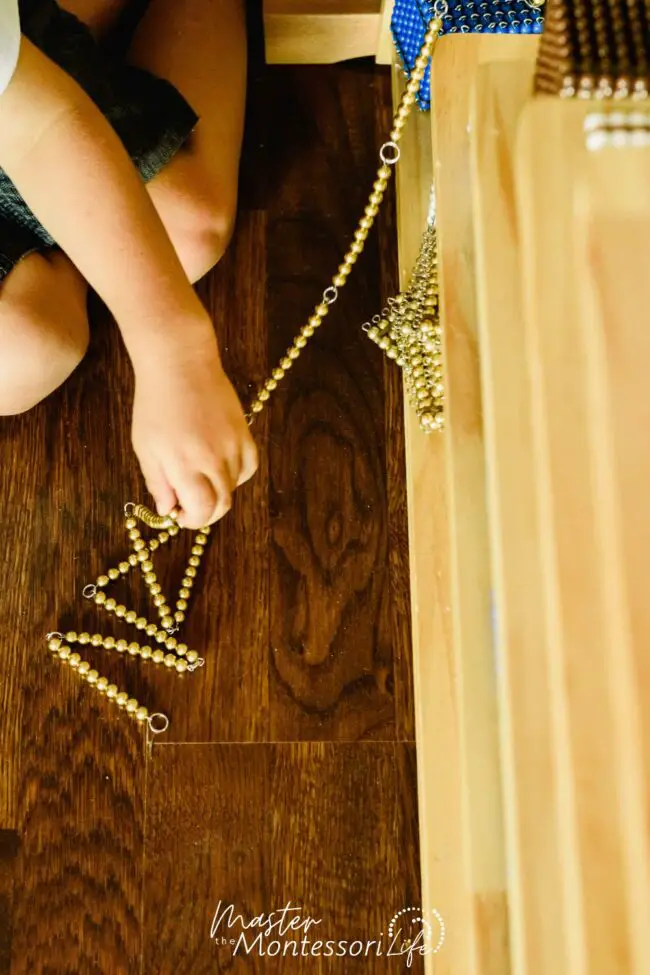 Montessori Math Intimidation
I have been trained in the Montessori philosophy, I have taught in Montessori schools and have been coaching and training others in The Montessori Method and what I keep hearing over and over is that Montessori Math is the most intimidating subject to tackle.
Many Montessori Guides (teachers) are extremely apprehensive about not grasping the concept for each Math work. And not only that; they are afraid of not teaching it right to the child during the Lesson Presentation. If that is you as well, I completely understand. I have been there and have felt the same way.
Please don't fret. I am here to help. Here's another time where The Montessori Way Foundations Framework comes in handy for you in a BIG way. In it, I teach you the foundations of Math works and provide you with lesson plans, printable materials, lesson demonstrations and lesson presentations!
Montessori Math Manipulatives
Let me share with you a set of fantastic hands-on works for Montessori Math that you and the children you work with will love:
Kghios Montessori Addition and Subtraction Board Montessori Math Toys Material for Toddlers Childhood Kids,Addition & Subtraction Strip Board

Kghios Montessori Math Toys Material for Toddlers Seguin Boards with Beads Home Edition ,Montessori Seguin Boards & Beads

2 Pack Wooden Math Multiplication Board & Addition Board, Montessori Hundred Board, Math Table Board Game, Creative Educational Preschool Learning Counting Toys for Toddlers Kids Over 3 Years Old

Montessori Toys for Toddlers, Wooden Math Number Blocks Counting and Manipulative Toys, Basic Math Game Preschool Learning Educational Materials for Toddlers Kids 2 3 4 5 Years

Kghios Montessori Math Beads Toys Materials for Toddlers Golden Beads and Cards Materials Bank Game Thousand Cube Decimal System Mathematics Teaching Materials Baby Preschool Education Toys

Kghios Montessori Math Toys Material for Toddlers 10 Sets of Colord Bead Chains 1-10 for Early Preschool Learning Toy ,1-10 Numeral Cognition Toy

Are you looking for great Montessori Math printable resources that are engaging, educational and fun? If so, then look no further! Our shop has an amazing selection of Montessori Math materials that can help your children learn math in a creative and interactive way.
Our Montessori Math Materials offer an exciting method for learning mathematics which is suitable for students of age around 3-6, but can go up or down, depending on each individual child.
In Conclusion
So if you are looking for ways to promote mathematical development in your Montessori classroom or homeschool setting, using Montessori math materials is a great way to do it! With these manipulatives, you can give your students the tools they need to become successful mathematicians.
By introducing Montessori Math Materials in the early years, you will be able to provide your students with an engaging and interactive way to learn mathematics. With these materials, you can support your students' development of foundational math skills in a fun and creative way.
Additionally, using these manipulatives can help develop important problem solving and critical thinking skills that your students need for success! So what are you waiting for? Check out our selection of Montessori Math Materials today!
Montessori Books and Resources

The Montessori Method

The Secret of Childhood

The Absorbent Mind

The Discovery of the Child

Montessori from the Start: The Child at Home, from Birth

Practical Guide to the Montessori Method at Home: With more


Watch all of my LIVE trainings!
That's right! I have all of my Montessori video trainings housed on one page! Most are 15-30 minutes long, but there are a few that are longer (90 minutes long) that require more attention, so I provide free printable workbooks for those! You can access them anytime. Don't forget to take notes!
'Discover What's Stopping You from Creating Smooth, Successful Montessori Days' Assessment
Take the FREE Montessori Assessment here!
Discover what's stopping you from creating smooth, successful Montessori days.
Take the assessment and get the free printable starter kit that fits your assessment results to help you move forward today!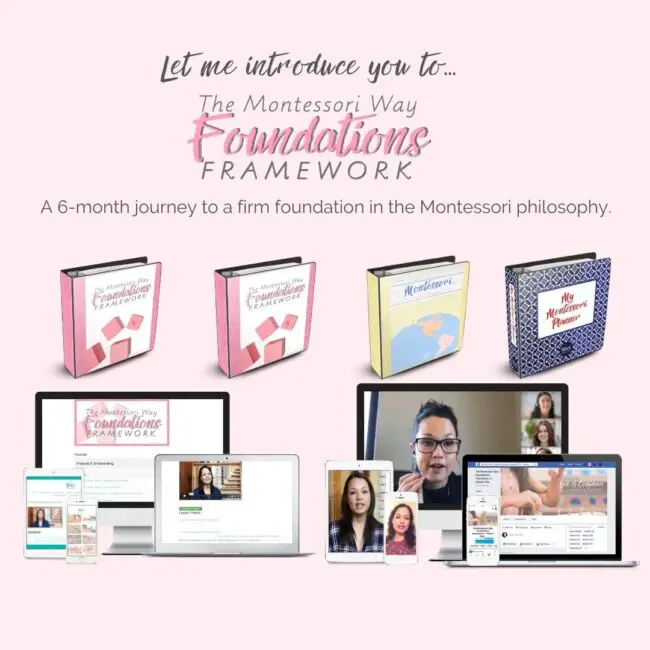 The Montessori Way Foundations Framework
Are you ready to become a centered, organized Montessori Guide, to nurture happy, normalized children and to create smooth, successful Montessori days? Then come find out more about The Montessori Way Foundations Framework!
The Montessori Way Foundations Framework is a 6-month program designed to equip Montessorians of all expertise levels to build a firm and lasting foundation in the Montessori philosophy that leads to smooth, successful Montessori days.
THIS is what you need for the transformation that you desire and that your children deserve.
You might also enjoy these relevant topics: