Oh!!!! You have made it to Part 4 of the series "Want to do Montessori, but don't know where to start?"
Don't forget that this series is just the beginning of your amazing and life-changing journey.
You have to be smart and really take your time to apply all of these steps before moving forward in this series. 
This is Part 4 of a 5-part series, you will learn what you need to know to get started!
Be sure to read all 5 parts!
In case you missed Parts 1, 2 and 3, please go read those and then come back to read Part 4.
Click HERE for Part 1. Click HERE for Part 2. Click HERE for Part 3.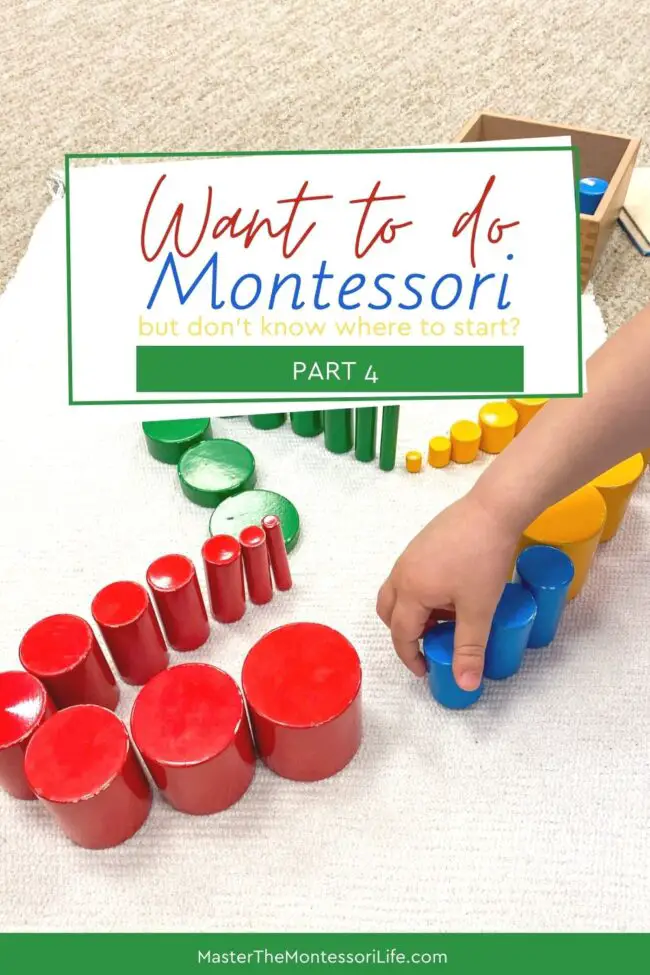 7 Set up a homeschool room, if applicable
As you know, children learn best in learning environments that are safe and inviting.
These Montessori prepared environments, whether they're at a Montessori school or you are doing Montessori at home, must be appropriately-aged classrooms.
In this post, we will be focusing on Montessori homeschooling, but this is one of the things that both have in common.
Choosing a Montessori-exclusive location in your home is particularly important for younger children.
If you are going to be using the Montessori philosophy as part of your homeschool learning, regardless of how much time you will dedicate to it.
It doesn't have to take up the entire room, but you do need to have an area set up for it.
It has to have two very important premises:
It has to be safe so they can have freedom within limits
It has to be attractive (pleasing to the eye and interesting for young children)
Instead of me making a mish-mash of random activities on our homeschool shelves, I prefer to have one shelf for each Montessori subject.
If you can include the previous examples in your new and expanded work examples, you can see whether or not you've maintained the integrity of your works. 
By supporting the child's learning to remember how various works are done independently, it helps the child to form comparisons between different sources of information (like all numbers works on shelf one and all letters works on shelf two, etc).
You, as the Montessori teacher, need to try to be as consistent as possible as children like predictability.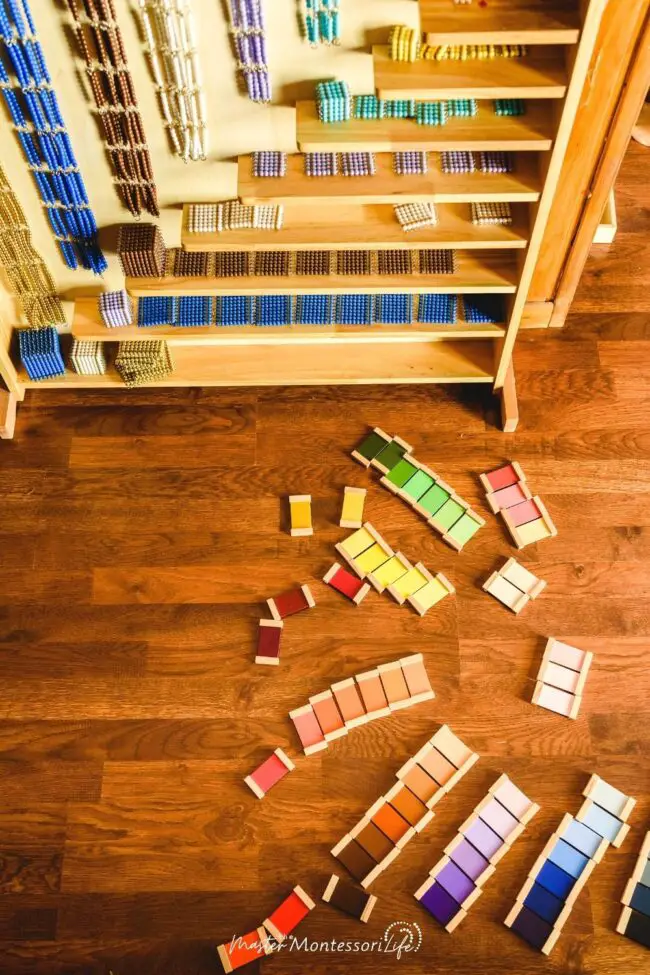 8 Decide which room you will set up next
This point is very important for those of you that are aspiring to live a Montessori lifestyle, not just Montessori academics.
The Montessori Method is an excellent educational approach that goes beyond the academics.
That is one of the reasons why this education philosophy is so amazing.
It focuses on educating the whole child, not just in academics.
As I mentioned before (be sure to check out Point #5 in Part 3 of this series, if you haven't yet), I recommend that you start with Montessori Practical Life activities and materials first. 
So, after setting up an area in your kitchen, you want to set up a homeschool room (if you are homeschooling, of course).
Next, you need to think of what other room in your home you want to set up for Montessori success.
Personally, I am going to give you a big piece of advice.
I recommend that you set up the child's room next.
Make it an educational environment, but in the Practical Life way. 
There are too many intricacies to me showing you how to do that.
It would take several video lessons and several blog posts, so I will give you enough to get started, ok?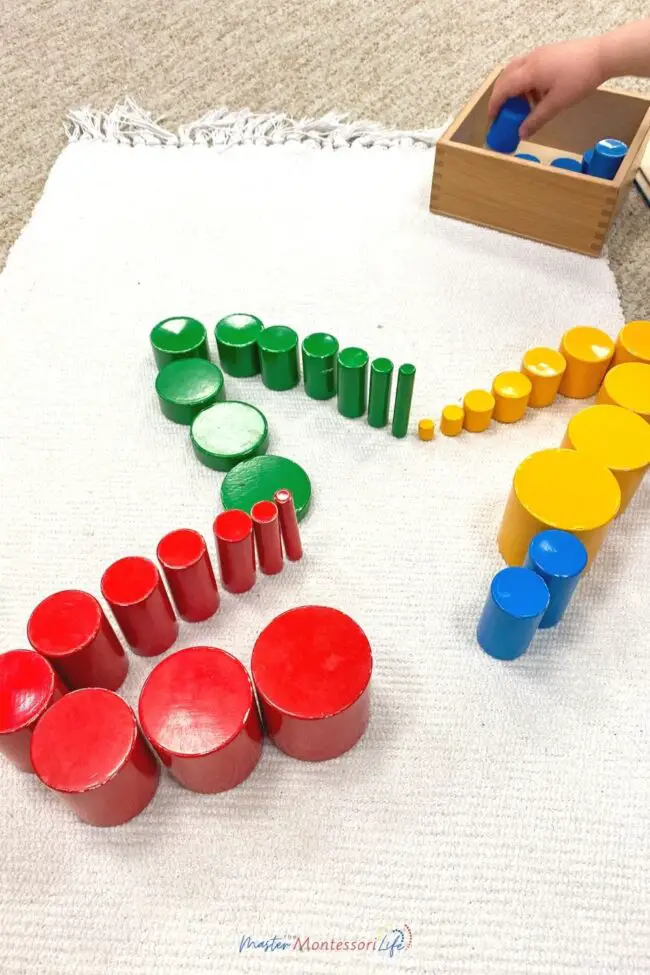 You need to get on your knees in the child's room.
That is it. It will show you what the room looks like from their perspective.
Once you are on your knees, look around. Pay really good attention.
Next, walk on your knees to different places in their room.
Can you climb on the bed easily? If the answer is no, lower it.
Go to the child's bedroom closet. Can you reach the clothes?
If not, then make changes to make the clothes easy to reach.
Can you reach the shelf to take and place toys? If not, fix that. 
See, your one and only goal in this exercise is to get the child to reach independence in their bedroom.
If the child can easily climb on the bed, it will be easier for the child to make it in the morning.
If the child can reach their clothes in the closet, they can hang and take down clothes as well as get dressed.
If the child can take and place toys back on the shelf, then it will be easier for the child to clean their room.
Brilliant!
HERE is an easy visual chore chart that you can download and print to use with your child.
In Conclusion of Part 4
As you go through this series, please make sure you take time to implement, to apply.
I can give you tips and tricks all day long, but in order for you to really see a transformation, to get some progress in your life and to give your child confidence and independence, you need to put these to practice!
Go do them today.
And when you are ready to move forward, GO HERE to read Part 5 of this series.
See you there.
Acts of Service the Montessori Way

Are you trying to think of Montessori friendly ideas that will get your children into the giving spirit? In this episode, we will be looking at some great acts of service ideas that you can implement anytime, but especially around the holidays.

Practical Life Fine Motor Skills Printable Activity

In this blog post, we'll discuss the importance of fine motor skills and some fun ways to help your child develop them through a Montessori Practical Life activity.

The Role of Montessori Parts of Speech in Language Arts

Montessori Language Arts takes a distinct approach to teaching parts of speech, transforming what could be a mundane subject into an engaging, hands-on learning experience for children.