Welcome to Part 3 of the series "Want to do Montessori, but don't know where to start?"
It's just the beginning of your amazing and unforgettable journey.
I call it "The Montessori Journey."
This is all I can do to help you so far, so far, but I will continue to help you ease your way as far as possible.
All right, let's get going on this lovely path, which started by none other than Maria Montessori, creator of The Montessori Method! 
But in case you missed Part 1, please go HERE to read it.
Then go to Part 2 HERE and then come read the next logical steps to take.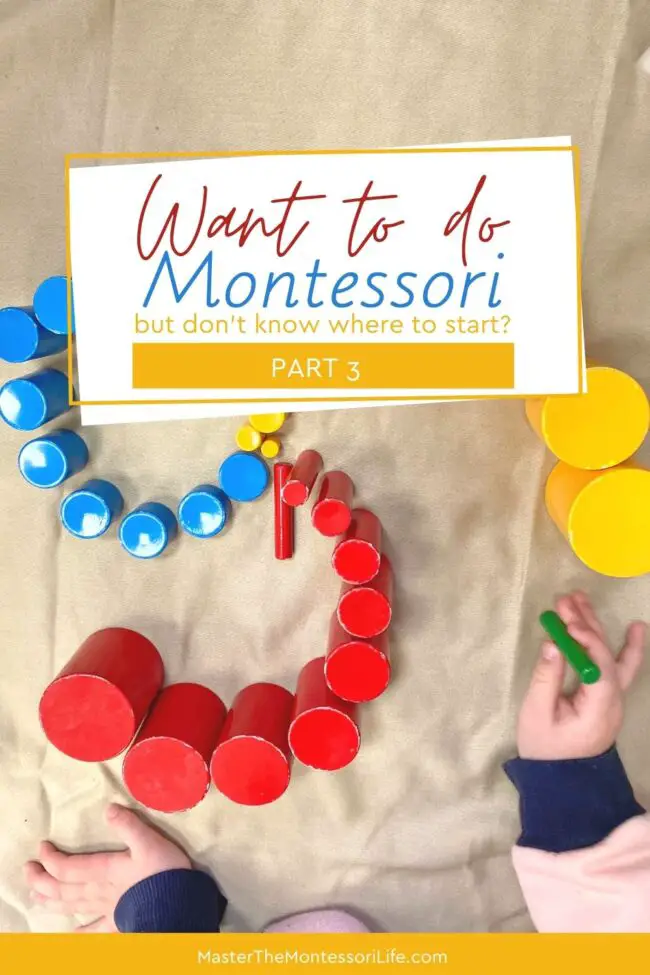 5 Begin with one room in your home 
Montessori education, along with Montessori principles, are more important for early childhood development than you know.
The fact that you are here, reading this information, tells me that you are on the right track!
The most important Montessori subject for you to start with when doing Montessori is, hands down, Practical Life.
This is because it is the subject that shortcuts a child's tangible transformation the fastest from dependence to independence.
It makes living Montessori doable and attainable.
It also links the Montessori academic side with the Montessori lifestyle side.
If you enjoy the Montessori lifestyle, then it will be easier for you to transition to The Montessori academics and vice versa.
For example, in Practical Life, a child will learn to tie their shoelaces.
One minute, the child needs you to tie them for him and then next minute, they can do it on their own.
And the best part is that once a skill is learned, it is there at their disposal forever!
That is a great notion.
Plan, put together and set up several Practical Life stations that your children might be using.
They can be around the kitchen or in separate rooms for them, or even in younger kids' rooms where there is no academic work to be done if necessary.
You don't need an entire room or a very big area for Practical Life only.
You need a few trays and enough shelf space to fit them on.
You do need some floor room or an area where you can set up a child-sized table for the child to do these works at.
I recommend that you start with the kitchen, so brainstorm and find ways to set up some things that are child- and Montessori friendly in the kitchen.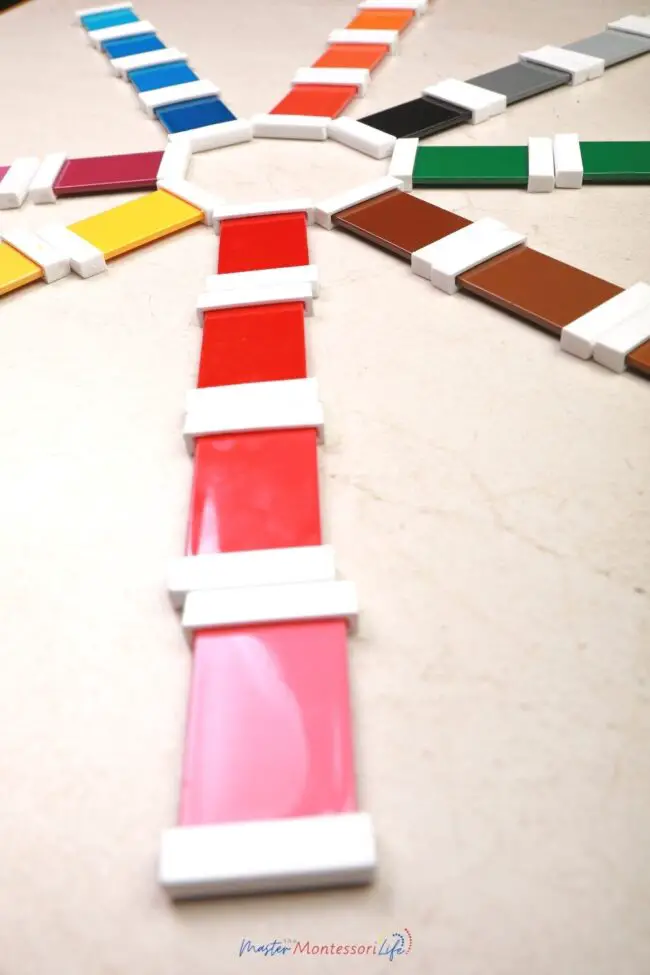 6 Set up a Montessori Materials Storage Area
Before I start this section, I want you to know that this can apply to you, whether you work at a Montessori school or or you do Montessori at home.
You will, inevitably, collect more and more Montessori works as time goes by.
See, the more you learn and understand about the Montessori philosophy, you will be more and more confident in it.
This will make it easier for you to venture out and get more materials ti implement Montessori even more.
Don't forget to include getting some Montessori friendly books as well. 
Let me be clear: there is nothing wrong with that.
On the contrary, I encourage offering a variety of Montessori works for your children, as money permits.
But, along with these lovely materials, comes the bulk. That's right!
These beautiful Montessori materials take up a lot of room and it can be hard to:
1) Set them out all at once due to space constraints and
2) Store them when they are not in use.
What a dilemma!
In case you decide to rotate and store the materials (move them from the Montessori classroom to a closet or other storage place) that you are not using at the time, you can use a bookshelf, a wardrobe, a closet or even another room.
It is important to keep our end goal in mind at all times.
That end goal here is creating a Montessori environment that will inspire young children (toddlers and preschoolers) to develop a love for learning.
Instead of wasting your money on too many shelves where unused materials will only gather dust, I recommend buying large tubs with lids for storing so that you can keep them on hand, clean, safe and stack them up to save space.
Storing items in well-labeled storage bins lets you sort out original and Montessori inspired materials based on topic or age, so keep that in mind.
product labels shortcode
In Conclusion of Part 3
I hope that you have enjoyed this list so far and that you are taking some serious notes about making your Montessori journey the very best possible.
Remember that you just read Part 3 of this series, so make sure you have read Parts 1 and 2.
Now, head over to Part 4! Click HERE.