Let's talk about the idea of a physical education curriculum. But first, I want to be completely honest with you. As you know, the Montessori philosophy embraces child independence and the child choosing their own learning. In Montessori, children are encouraged to make their own choices and take control of their learning.
This means they can choose the activities and lessons that interest them. This helps them develop independence and learn in a way that works best for them.
But many parents and Montessori teachers have asked me over the years a question (and for a very valid reason!). "What about those children that are extroverts and NEED human interaction?"
Well, for that, you have to get creative. Yes, you want to protect your Montessori environment time because it is precious. BUT you can carve out small bits of time where you can have organized activities. These activities will foster and encourage human interaction and socialization.
One of such times is Circle Time. You can learn about it in my live training ​HERE​, but I go in much more detail inside ​The Montessori Way Foundations Framework​. Another great way is through Art, Music and Physical Education activities.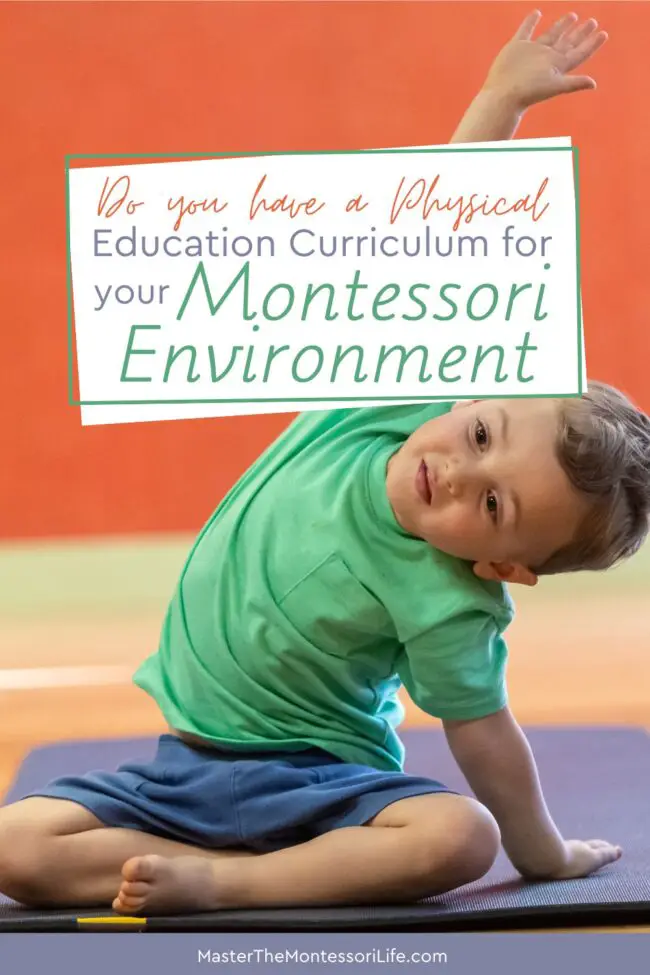 Do you have a plan about those, including Physical Education?
When it comes to physical education, a Montessori environment embraces the whole child. Physical activity should be a part of every day and must be actively encouraged. It is also important to remember that children learn best when they are given opportunities to explore their environment safely. Therefore, safe equipment for outdoor play should be provided as well as indoor activities such as yoga, dance, and obstacle courses.
The goal of physical education in a Montessori environment should be to provide opportunities for children to learn the skills they need for movement. This can include balance, coordination, agility, strength and endurance, as well as basic motor skills such as throwing and catching. It is also important that activities are developmentally appropriate and tailored to each child's individual needs.
Finally, it is important to remember that physical activity should be fun and engaging for children. Providing them with a variety of activities to choose from will help keep them motivated and interested in being physically active. Involving the children in setting up physical education activities adds an element of ownership and encourages problem solving skills as well as independence.
This type of activity cold be easily included in the Montessori Sensorial subject. To be specific, it would fall under the subcategory "Muscular."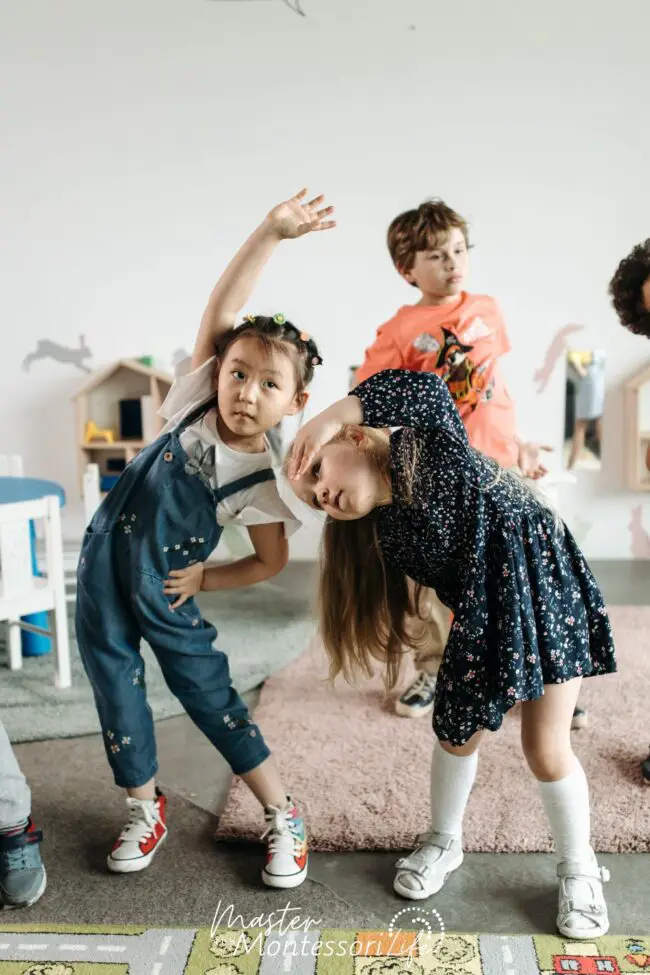 Physical Education Curriculum
Are you looking for a physical education curriculum to keep your kids active and learning? Look no further than The Natural Homeschool's 12-month Weekly Physical Education Plan! This comprehensive, interactive curriculum provides engaging lessons that cover fundamental physical education concepts such as exercise techniques, coordination activities, teamwork, sportsmanship and more. 
The plan was designed by me, an experienced homeschooling and Montessori mom, who wants to ensure that all children have access to the same physical education resources as those in traditional schools. Each lesson is designed to help children build strength and agility while having fun with activities that can be adapted to all age groups.
With this comprehensive physical education plan, you can create a well-rounded program for your Montessori children. And it's available in digital and printable version to give you even more options for teaching your kids. Print it out or have it outside on your tablet or phone to access the day's activities.
Start giving your kids the physical education they need today! Get The Natural Homeschool's 12-month Weekly Physical Education Plan now at ​https://shop.thenaturalhomeschool.com/product/12-month-weekly-physical-education-plan-for-kids​.
Features of the PE Curriculum
22 pages total in PDF downloadable form
Save file to your computer to use year after year
Certificate of completion included (print one for each child)
Lessons use minimal amount of inexpensive materials that you most likely already have at home, such as a ball, cones, jump rope for ease of preparation.
Lesson ideas for variations according to duration desired, ability level and more
Lists of workouts with explanations for easier understanding and less time wasted figuring it out
Workouts for every week for 12 months
Can be used independently by older children
Whole body, upper body and lower body schedules
A different list of exercises for every month of the year with few repetitions in the entire year.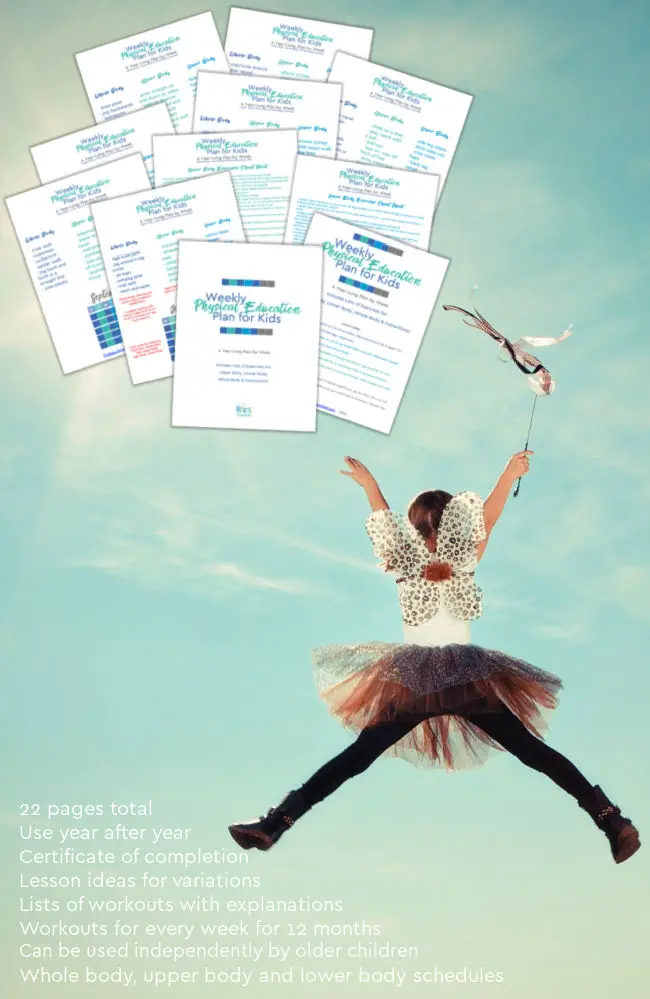 Physical Education and Montessori
In conclusion, physical education is an important part of a Montessori environment. It helps children develop strength and agility while having fun with activities that can be adapted to all age groups.
The Natural Homeschool's 12-month Weekly Physical Education Plan helps kids learn fundamental physical education concepts in an interactive way and you will love to learn that most activities require minimal everyday objects that you already have around the Montessori environment or home or require no equipment at all!
With this plan, you'll have access to engaging activities tailored for each individual child that are both developmentally appropriate and fun. Make sure your Montessori children get the physical education and socialization they need today – purchase The Natural Homeschool's 12-month Weekly Physical Education Plan HERE!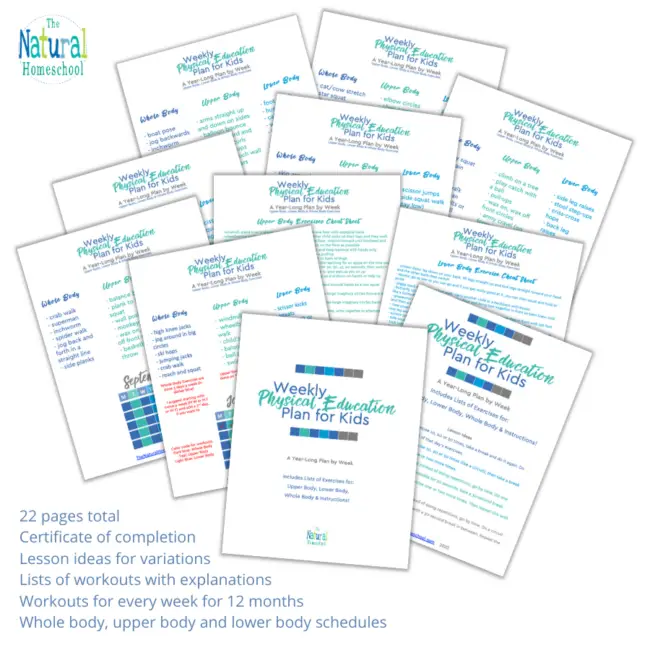 You might also enjoy these relevant topics: