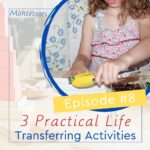 It will help you understand how to set up dozens of Montessori Practical Life transferring activities and will set up the children for success.
One of the key areas of Montessori practical life is transferring activities.
These Montessori Practical life transferring activities help children to develop fine motor skills and control, as well as concentration and focus.
Full video training here:
Montessori Practical Life
The Montessori Practical Life subject is one of the most important subjects in the Montessori philosophy.
There are many reasons, but one of them is that it shortcuts the child's path toward independence.
Practical Life activities are those which we use in our everyday lives, such as pouring, spooning, transferring, buttoning and zipping.
All of these activities help the child to develop fine motor skills, control and concentration.
One area of practical life that is often overlooked is transferring.
Transferring activities help the child to develop control and coordination.
It is also a great way to introduce the concept of one-to-one correspondence (i.e., one object for each action).
Montessori Transferring Activities
Transferring activities also lay the foundation for academic skills such as writing and reading.
There are dozens of Montessori Practical Life transferring activities that you can set up for your children. In this episode, we'll share three of our favorites.
The first activity is called 'Pouring Rice'.
For this activity, you'll need a container of rice, a funnel, and two small jars.
Show your child how to pour the rice from the container into the funnel, and then into one of the jars.
Then, have them pour it back into the container using the other jar.
This activity helps to develop hand-eye coordination and fine motor skills.
Practical Life Transferring Activities
There are many different ways to set up transferring activities, but here are three of our favourites:
1. Using tongs or tweezers to transfer objects from one container to another
2. Pouring water or sand from one container to another
3. Sorting objects by size, shape or colour into different containers
All of these activities can be easily adapted to meet the needs of your individual child or class.
With a little bit of creativity, you can set up dozens of different transferring activities that will help your children to succeed in the Montessori classroom and in life.
#themontessoriway #themontessoriwaypreproom #themontessoriguide #themontessoriwayfoundationsframework #themontessorimethod #themontessoriwayfoundationsworkshop #thenaturalhomeschool #thenaturalhomeschoolshow #montessori #montessoriathome #montessoritopics #montessorimaterials #montessorieducation #themontessorilife #themontessorijourney #themontessoriexperience #montessoripodcast #montessoripodcasts #montessoriprogram #centeredmontessoriguide #normalizedchild #montessoridays #montessorian #montessoriactivity #montessorienvironment #montessoriquestions #montessorihomeschool #montessorikids #montessorimom #montessoriactivities
Wardrobe from: http://bit.ly/TNHstitchfix