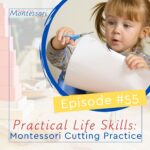 In this awesome training, we will address the topic of Practical Life Skills, specifically Montessori cutting practice, and how they can be taught to children.
Watch the full video training here:
Montessori Practical Life Subject is extremely important
This is in the Montessori curriculum and is focused on developing fine motor skills, independence, self-confidence, and responsibility.
One of the most important aspects of Practical Life is Montessori cutting practice.
This involves teaching children how to properly cut a variety of different materials using scissors first.
Then, other tools like knives or blades.
This process requires patience, concentration, and coordination.
Additionally, it requires a thorough understanding of safety guidelines for these types of tools.
Once children have mastered the art of Montessori cutting practice, they will be able to confidently and independently complete a wide range of tasks in their everyday life.
Whether it's for school or for home, the skills learned through this process can be applied to many different situations.
So if you're interested in learning more about Practical Life Skills and how Montessori cutting practice is used in child development, then this is the training for you!
Join us now as we explore this exciting topic.
Practical Life Skills are essential for children
By taking the time to learn about all aspects of Practical Life Skills, you will be better equipped to help children thrive physically, emotionally, and intellectually.
In this training, we will focus specifically on Montessori cutting practice.
This process helps children develop fine motor skills, patience, concentration, and coordination.
It is also a great opportunity for them to learn about safety when using scissors or other sharp tools.
Once they have mastered the basics of Montessori cutting practice, the sky is the limit.
They can apply these skills to many different situations in their everyday life.
So join us now as we explore this important topic in detail!
Whether you are a parent, teacher, or another type of caregiver, this is an important topic that shouldn't be overlooked.
So what are you waiting for? Start exploring the world of Montessori cutting practice today!
Montessori Cutting Practice for Fine Motor Skills
Fortunately, there are many resources available for those who wish to learn more about Montessori cutting practice.
For example, there are tutorials that can teach you everything from basic techniques to advanced strategies for working with children.
Furthermore, there are also books and articles written by experienced Montessori teachers that can provide valuable insights.
One of the best ways to learn about Montessori cutting practice is to observe it being done by the child.
This is to be observed, preferably, by an experienced Montessori teacher.
This will give you a first-hand look at how the process works and what benefits it can provide for children.
It is also important to keep in mind that while Montessori cutting practice is an important part of the curriculum.
It is not the only aspect of Practical Life Skills that should be addressed.
Other important areas include things like grooming, table manners, and housekeeping tasks.
All of these areas are essential for helping children develop into well-rounded individuals.
#MasterTheMontessoriLifeShow #themontessoriwayfoundationsframework #themontessoriwaypreproom #themontessoriguide #themontessorimethod #themontessoriway #MasterTheMontessoriLife #montessori #montessoriathome #montessoritopics #montessorieducation #themontessorilife #themontessorijourney #themontessoriexperience #montessoripodcast #montessoripodcasts #montessoriprogram #centeredmontessoriguide #normalizedchild #montessoridays #montessorian #montessoriactivity #montessorienvironment #montessoriquestions #montessorihomeschool #montessorikids #montessorimom #montessoriactivities #montessorimaterials
Wardrobe from: http://bit.ly/TNHstitchfix