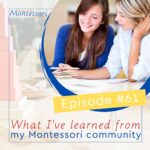 When practicing Montessori, it is very easy to become disoriented. Having a Montessori community can help you stay accountable and motivated. Come learn what I've discovered from my Montessori community.
First, I've learned that Montessori is about collaboration and cooperation. Everyone in my community has their own unique skills and experiences, and learning together in the same space brings out the best in everyone. We share our ideas with each other freely, which helps us all to grow together.
Second, I've discovered that Montessori is about personal growth. The Montessori approach encourages us to push ourselves and become our best selves. With the help of my community, I'm able to identify areas where I need to grow, and they provide me with support and guidance as I work through them.
Third, Montessori is about exploration and discovery. When working together in the same space, we can explore each others' ideas and discover new ways of doing things. We are able to be creative in our approaches and come up with unique solutions to challenges that might otherwise seem impossible.
Finally, Montessori is about connection and relationships. I'm always amazed at how quickly I form meaningful connections with people who practice Montessori, even from different backgrounds. Being part of this network of people who truly understand and respect each other has been incredibly rewarding.
My Montessori community has been an invaluable source of support and growth for me. I'm so grateful to be part of this amazing group of people. I look forward to seeing what else I can learn from them in the future!
Watch the full training here:
How my Montessori Community can Help Others
The benefits of having a Montessori community are not limited to just me. Through my experiences, I've come to understand how this type of environment can help others as well. One of the best decisions I've ever made was to join a Montessori community. It allows me to stay connected with other Montessori parents and teachers. It also provides me with invaluable knowledge and support, which helps me grow in confidence as a parent.
I have learned many valuable lessons. Lessons are about parenting, teaching, and living life. They are according to the ideals of Montessori philosophy through my interactions with others in the community. In this article, I'll share some of these insights with you so that you, too, can benefit.
For example, a Montessori community can provide emotional support for those who are facing difficult times in their lives. Whether it be through sharing stories, giving advice, or simply being present and listening, having a support network can really help to lift someone's spirits.
It can also help to spread knowledge and expertise in various areas. For instance, my Montessori community has experienced members who are knowledgeable about different topics such as gardening, cooking, and woodworking. They share their ideas with others in the community. They also help to pass on their skills to those interested in learning.
Finally, a Montessori community can serve as an inspiration for others who are looking to take on new projects or explore new ideas. Seeing how others have gone about tackling their own problems can give the courage and motivation needed to face our own challenges with confidence.
My Montessori community has been a great source of learning and growth for me. I'm sure it can be the same for other people as well. With a combination of collaboration, personal growth, exploration, and connection, there's no limit to what we can all accomplish together!
Reflections on my Montessori Journey
My Montessori journey has been an incredibly rewarding experience. Through it, I've gained invaluable knowledge and made lasting connections with other like-minded people. More importantly, I have come to understand the importance of community in my life. Also, how much support can come from being part of a supportive group.
Looking back on the time I spent in my Montessori community, I am truly grateful for all the experiences, knowledge, and relationships I gained from it. It has helped me to become a better version of myself. It continues to be a source of strength as I face new obstacles in life.
No matter what kind of journey you're on, having a supportive community can make all the difference. With the help of others who understand your struggles and share your goals, you can achieve more than you ever thought was possible. I encourage everyone to join a Montessori community in order to reap the benefits and to truly appreciate the power of connection!
I'm so glad that I made the decision to join a Montessori community, and I look forward to continuing my journey with them. With every passing day, I'm growing and learning more about Montessori philosophy and the world around me. Together, we are making a difference in this world, one person at a time. 
Final Thoughts
Montessori is an inspiring way of life that encourages us to reach our potential through collaboration, exploration, connection, and personal growth. Being part of a Montessori community provides us with invaluable support, knowledge and camaraderie that can help us grow in ways we never thought possible.
By joining a Montessori community, I've been able to learn from others and discover new ideas and possibilities. Through my experiences, I've come to understand the power of connection and the value of being part of something greater than myself. I'm incredibly thankful for the people who have been a part of my journey, and for the amazing things they've helped me to accomplish along the way! 
Montessori is more than just an educational philosophy; it's a lifestyle that can enrich our lives in countless ways. By taking part in this wonderful community, we are not only helping ourselves, but we are also helping others to reach their full potential. That's something I'm truly proud to be a part of! 
I encourage everyone to give Montessori Discoveries a try and experience the power of connection for yourself. Let's keep exploring and discovering together!
Watch all of my LIVE trainings!
That's right! I have all of my Montessori video trainings housed on one page! Most are 15-30 minutes long, but there are a few that are longer (90 minutes long) that require more attention, so I provide free printable workbooks for those! You can access them anytime. Don't forget to take notes!
'Discover What's Stopping You from Creating Smooth, Successful Montessori Days' Assessment
Take the FREE Montessori Assessment here!
Discover what's stopping you from creating smooth, successful Montessori days.
Take the assessment and get the free printable starter kit that fits your assessment results to help you move forward today!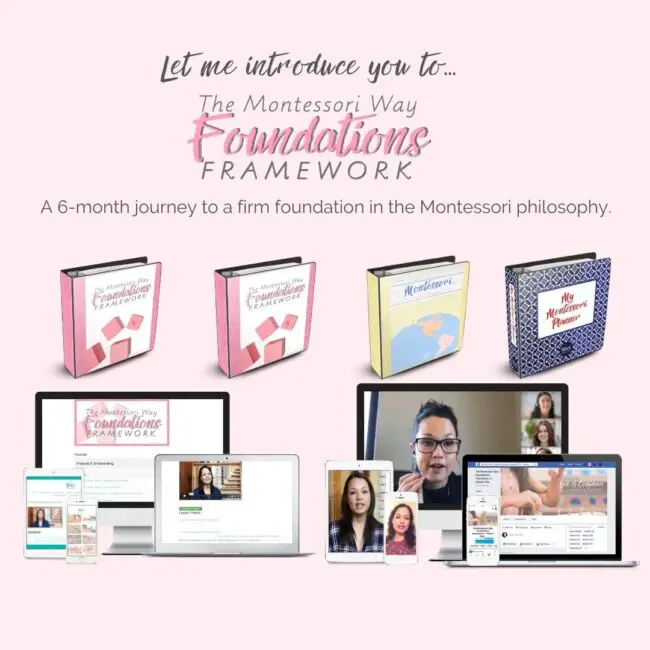 The Montessori Way Foundations Framework
Are you ready to become a centered, organized Montessori Guide, to nurture happy, normalized children and to create smooth, successful Montessori days? Then come find out more about The Montessori Way Foundations Framework!
The Montessori Way Foundations Framework is a 6-month program designed to equip Montessorians of all expertise levels to build a firm and lasting foundation in the Montessori philosophy that leads to smooth, successful Montessori days.
THIS is what you need for the transformation that you desire and that your children deserve.