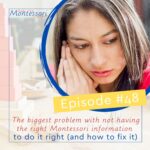 When it comes to performing Montessori correctly and effectively, there are numerous nuances to consider.
I understand that it can be daunting, but you shouldn't let that deter you.
As a result of not having access to accurate Montessori information, we will address how to overcome this obstacle in this episode.
Listen in!
Full video training here:
Montessori Problems Don't Need to Stop You
When it comes to implementing Montessori in your home or classroom, there are many things to consider.
While it can seem intimidating at first, you shouldn't let that deter you from pursuing this approach.
One major issue that many people face when attempting to do Montessori correctly is a lack of reliable information and resources.
However, there are ways to overcome this challenge and continue on with your Montessori journey successfully.
In this episode, we will explore some of the strategies that you can use to get the right information and implement it effectively, so that you can do Montessori right no matter what challenges arise.
Stay tuned!
Gain Montessori Information in the Right Places
MasterTheMontessoriLife.com is a trove of amazing help for Montessorians, new and seasoned.
In order to help you understand more about Montessori and how to use it in your everyday life, we provide a number of resources, such as articles, books, and online courses. 
For anyone interested in learning more about this interesting philosophy, please visit our website and get started right away. 
That's all there is to it. There is no requirement for you to be an expert in Montessori before beginning your studies. 
Simply take things one step at a time and absorb everything you can as you go. 
In addition, please visit our online store and YouTube channel for further materials on this incredible idea. 
Thank you for taking the time to watch! I promise you that you will not be disappointed! 
Interested in learning more about where you are in your Montessori journey? 
Take the Montessori Assessment HERE 
Investigate the factors that are preventing you from achieving smooth and successful Montessori days. 
Take the assessment and download the free printable starter kit that corresponds to your assessment findings so that you can get started right away!
The Montessori Method

The Secret of Childhood

The Absorbent Mind

The Discovery of the Child

Montessori from the Start: The Child at Home, from Birth

Practical Guide to the Montessori Method at Home: With more

Do Montessori Right For Learning Success
As you know, I do free live trainings every week. And every week is about a Montessori topic. These trainings can be found HERE and they are about 20-30 minutes long.
I have several longer Montessori trainings that will be very helpful to you flourish in your Montessori journey. They are 90 minutes long each. You can find them HERE (scroll to the bottom of the page) and work on the at your own pace. There are printable workbooks that go with these trainings.
Now, there is a free 5-day workshop that I offer 2-3 times a year. It is called The Montessori Way Foundations Workshop. In it, we meet live 5 days in a row for 1 hour each day to talk about some very important foundational Montessori topics. If you see this at a time when it isn't going on, you can go HERE and join the waitlist. That way, whenever this is taking place, you will be notified via email.
Lastly, there is a 6-month Montessori training that I offer on my website. It is called The Montessori Way Foundations Framework. It is a 6-month program designed to equip Montessorians of all expertise levels to build a firm and lasting foundation in the Montessori philosophy that leads to smooth, successful Montessori days by nurturing happy, normalized (independent) children. If you want to know when open enrollment happens, sign up for the waitlist HERE.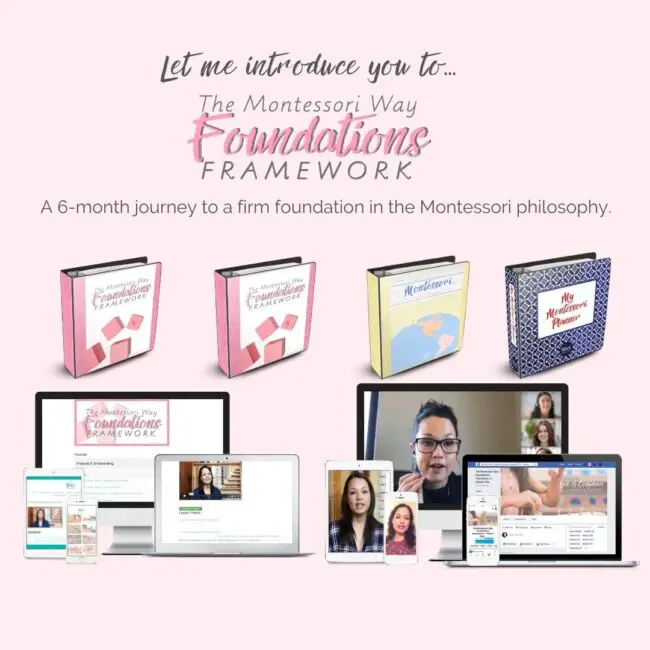 #montessorihomeschool #montessorikids #montessorimom #montessoriactivities #montessorimaterials #MasterTheMontessoriLifeShow #themontessoriwayfoundationsframework #themontessoriwaypreproom #themontessoriguide #themontessorimethod #themontessoriway #MasterTheMontessoriLife #montessori #montessoriathome #montessoritopics #montessorieducation #themontessorilife #themontessorijourney #themontessoriexperience #montessoripodcast #montessoripodcasts #montessoriprogram #centeredmontessoriguide #normalizedchild #montessoridays #montessorian #montessoriactivity #montessorienvironment #montessoriquestions
Wardrobe from: http://bit.ly/TNHstitchfix