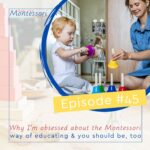 The reasons why I am a believer in the Montessori way will inspire you and provide you with a positive view on your Montessori journey.
Full video training here:
Montessori Education is Structured
The Montessori philosophy of education is often misunderstood.
Some people think that because the classrooms are so structured, with everything in its place and time for every activity, that the children must be bored.
On the contrary, children in a Montessori classroom have more freedom than their counterparts in traditional classrooms.
To clarify, the freedom that children enjoy comes from within themselves.
They are not restrained by externally imposed rules and regulations; rather, they internalize the limits set by the structure of their environment and their own developing abilities.
However, the purpose of this philosophy is to help children reach their highest potential academically, emotionally, socially, and physically.
The Montessori Philosophy is Customized
In a classroom that follows this philosophy, children are not passively receiving information from a teacher; they are actively engaged in their own learning.
In short, the method emphasizes independent learning and discovery.
Children learn how to think for themselves and how to solve problems.
They learn to question and to explore.
This approach helps children develop a love of learning that will stay with them throughout their lives.
It promotes peace
The Montessori philosophy is based on the principle that all children have a natural desire for peace and harmony.
In a Montessori classroom, children learn to respect themselves, each other, and their environment.
Further, they are taught conflict resolution skills and nonviolent problem solving.
The result is a safe, supportive, and cooperative community where children can learn and grow.
It encourages Independence
In a Montessori classroom, children are encouraged to be independent and self-sufficient.
They learn to take responsibility for their own learning and their own actions.
Importantly, the Montessori method helps children develop a strong sense of self-esteem and confidence.
Moreover, they learn that they are capable of making decisions, solving problems, and taking responsibility for their own lives.
It fosters creativity
The Montessori philosophy values the individual child's creativity and imagination.
In a Montessori classroom, children are free to explore their interests and to discover their own unique talents and abilities.
In addition, this method helps children develop their imaginations and express themselves through creative activities and projects.
As a result, there is a diverse community of creative, independent children who are excited about learning and ready to take on the challenges of the world.
Whether you already have young children or are planning for their future, choosing education for your child is one of the best decisions you can make.
This philosophy will help your children learn, grow, and thrive in today's world.
The Montessori Method

The Secret of Childhood

The Absorbent Mind

The Discovery of the Child

Montessori from the Start: The Child at Home, from Birth

Practical Guide to the Montessori Method at Home: With more

The Montessori Philosophy is Freeing
It is also inspiring and life-changing.
If you are looking for an education that will prepare your children for the future and help them discover their full potential, then look no further than this wonderful method of education.
The unique approach of this innovative philosophy will give your children the skills and confidence they need to succeed in school and in life.
So why wait? Start the Montessori method today!
#MasterTheMontessoriLifeShow #themontessoriwayfoundationsframework #themontessoriwaypreproom #themontessoriguide #themontessorimethod #themontessoriway #MasterTheMontessoriLife #montessori #montessoriathome #montessoritopics #montessorieducation #themontessorilife #themontessorijourney #themontessoriexperience #montessoripodcast #montessoripodcasts #montessoriprogram #centeredmontessoriguide #normalizedchild #montessoridays #montessorian #montessoriactivity #montessorienvironment #montessoriquestions #montessorihomeschool #montessorikids #montessorimom #montessoriactivities #montessorimaterials
Wardrobe from: http://bit.ly/TNHstitchfix