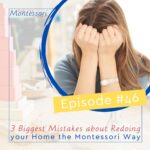 Come learn about the three most common mistakes individuals make while renovating their homes to accommodate a Montessori lifestyle, as well as how to avoid making them.
Full video training here:
The Montessori way can be overwhelming, but it doesn't have to
Have the proper guidance. Join us as we help you avoid making costly mistakes that might set your journey back.
There is so much information out there and it can be tough to sift through everything.
The best way to ensure you are on the right track is to speak with individuals who have already made the transition to a Montessori lifestyle.
They can share their experiences and help point you in the right direction.
Don't think that this lifestyle is only for children.
The truth is, anyone can benefit from living a Montessori lifestyle. It's all about creating an environment that promotes independence, self-reliance, and order.
If you are considering making the switch to a Montessori lifestyle, tune in to this episode and find out what mistakes you should avoid.
You don't want to miss this!
Montessori at Home is doable
I will be honest with you: it takes a bit of research and planning to get started.
The first step is to learn what the most common mistakes are so that you can avoid them.
In this episode, we'll discuss the three biggest mistakes people make when trying to incorporate Montessori principles into their home setup, as well as how you can prevent making those same mistakes yourself.
Whether you're looking to create a more peaceful environment for your children or simply want to live a more organized and streamlined life, there's no better place to start than with the Montessori method.
So don't delay – tune in today and learn how you can successfully begin incorporating the Montessori lifestyle into your home!
Mistakes in Montessori to avoid
'Winging things' in Montessori simply won't fly (pun intended).
You want to be intentional on what you plan and the works that you set out for the children that you are working with, so I highly recommend that you have everything in place so that you can get out of the way.
So, before you begin to "go all out" and set up an entire Montessori environment that is full of Montessori works at random, have a plan, be intentional and test things.
Montessori Friendly Summer Printable Bundle

With this summer bundle, you will be equipped with everything you need to keep your children occupied and having a wonderful time while remaining indoors and celebrating summer from the comfort of your own home.

Do you need help in doing Montessori right?

Do you need help in doing Montessori to make sure that you are doing it right? Come and find out how to know what to focus on first, actionable steps to apply immediately and more!

Planning Montessori at Home (digital book)

Do you want to plan your Montessori at home, but don't know where to start? This 65-page digital book is going to give you the guidance you need to do it right from the beginning. There are some tips and tricks that many don't know will shortcut their planning by a lot.
#MasterTheMontessoriLifeShow #themontessoriwayfoundationsframework #MontessoriMistakes #themontessoriwaypreproom #themontessoriguide #themontessorimethod #themontessoriway #MasterTheMontessoriLife #montessori #montessoriathome #montessoritopics #montessorieducation #themontessorilife #themontessorijourney #themontessoriexperience #montessoripodcast #montessoripodcasts #montessoriprogram #centeredmontessoriguide #normalizedchild #montessoridays #montessorian #montessoriactivity #montessorienvironment #montessoriquestions #montessorihomeschool #montessorikids #montessorimom #montessoriactivities #montessorimaterials
Wardrobe from: http://bit.ly/TNHstitchfix