The Montessori Way Foundations Framework is a 6-month journey to a firm foundation in the Montessori philosophy that includes personalized coaching, video lessons, PDFs, lesson plans, printables and more!
But you will learn more about it here.
Even though enrollment opens only twice or three times a year, you will also be able to join the waitlist below.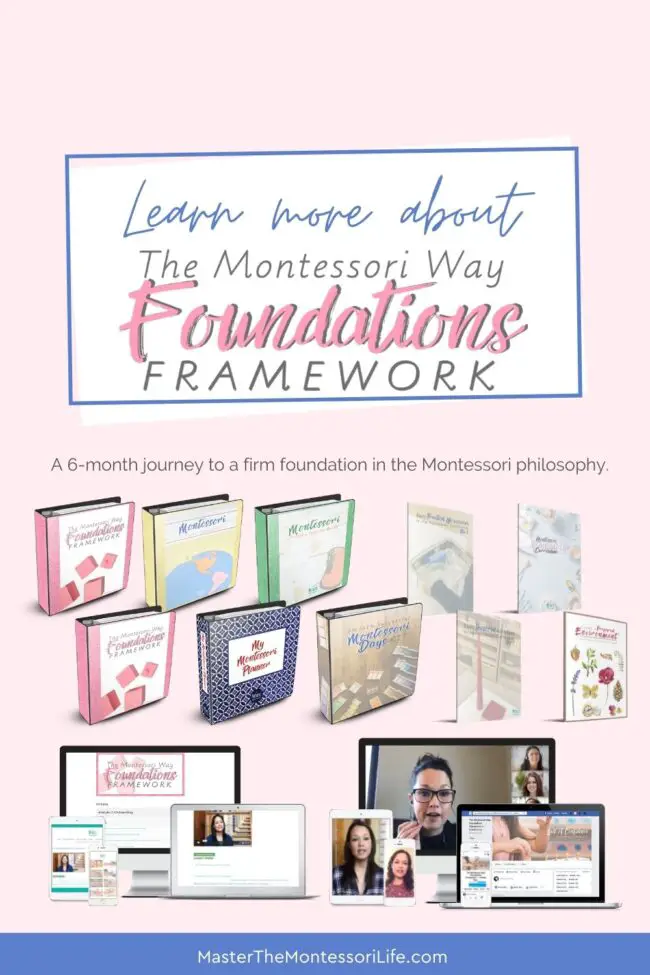 Join the waitlist below or HERE.
Watch & Listen to the Episode Here:
As you watch or listen to this training, know that you will be able to get more information than what is included in this blog post.
However, I really want to encourage you to take the time to watch or listen and take notes.
Importantly, this will be helpful to you now and in the future.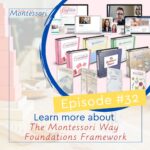 ---
Tips:
Firstly, let's get into some of the most common question people have about The Montessori Way Foundations Framework.
Secondly, if your questions aren't addressed, please post them in comments at the end of the blog post.
Thirdly, I will be responding to them and, if they are possible questions that others might have, I will add them to the list of questions in the blog post.
Finally, watch the video and read the questions below for more information:
Q: What is in The Montessori Way Foundations Framework™️?
A 6-month journey to a firm foundation in the Montessori philosophy. 
You'll gain instant access to The Montessori Way Foundations Framework™ Onboarding module, where I'll walk you through how to prepare for success before diving into the core plan.
In the onboarding module, you'll have 6 video lessons with printable details that guide you through The Montessori Way Foundations Framework™ Program Success Roadmap to keep you moving forward in learning and implementation, getting you organized for the 12 Laser Call included, how to setup your 3-ring binder for success and…
The Consumption Plan – Monthly Implementing Plan for you to plan and track your module consumption inside this program.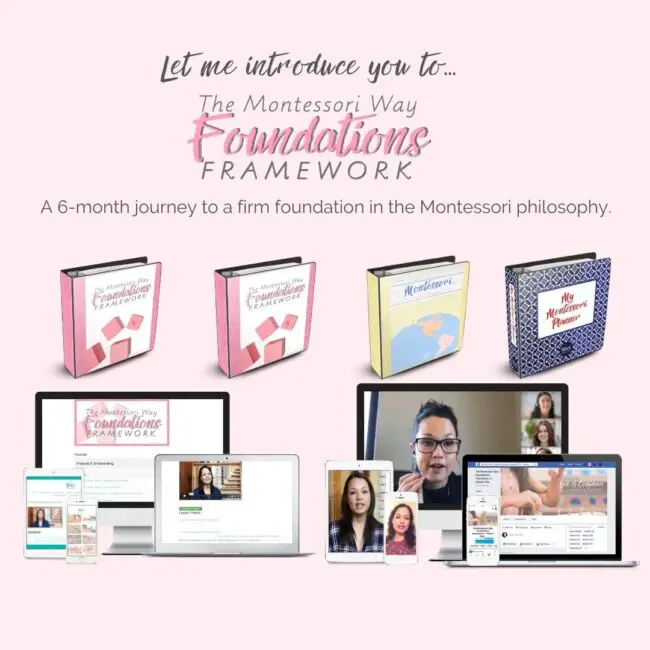 4 Deliverables
1 The Core Method (video lessons with printable resources) (200+ pages)
Module 0: Onboarding (getting you ready for the framework)
Module 1: Philosophy Savvy
In Module 2: Materials Wise
Module 3: Environment Ready
Module 4: Montessori Practical Life and Sensorial
In Module 5: Montessori Math and Language Arts
Module 6: Montessori Science and Culture
Module 7: Putting it All Together
2 Zoom video calls twice a month for individualized questions
Ongoing Coaching:
So, you get 6-month access to the CLIENT ONLY Facebook Group that shortcuts your struggles with group coaching for clarity, goal-setting, confirmation, support and celebration.
You will never be alone on this journey if you stay connected inside the group on a daily (or weekly) basis.
Personalized Coaching:
These are face-to-face recorded video calls on Zoom where you get to pre-submit a question that you are really stuck in or need advise according to your particular situation that requires deeper coaching than the Facebook group.
Attend the video calls twice a month for 1 hour.
Replays are added to the learning hub, in case you missed them or you want to watch them again.
3 A printable and customizable Montessori Planner (50+ pages)
You will get the planning help that takes away:
✓ The struggle of staying organized by keeping orderly and detailed records
✓ The overwhelming feeling by getting you prepared by providing you with ideas, templates, charts, etc.
✓ Hours and hours of hard work by giving you ready-made customizable charts, schedules, calendars and more.
4 A Montessori Printable Lesson Plans Bundle (20+ lesson plans)
You'll get the Montessori tools you desperately need that will eliminate:
✓ The overwhelm between not know what lessons to prepare
✓ How to prepare the lessons, step by step as well as
✓ When and how to present them to a child
3 Bonuses:
1 A Montessori Printable Activities Bundle (120+ pages)
2 A Printable Montessori Practical Life Step 1 Curriculum
3 A Printable Montessori Sensorial Step 1 Curriculum
Optional: You can fill out a request form for a certificate of completion
Action Bonuses
-Fast Action Bonus (expires 24 hours after enrollment opens)
Discover how to create smooth, successful Montessori days in the Montessori environment with this amazing printable kit.
With 44 pages of observation and reflections charts, morning routine cards, a digital book for Montessori parents,inspirational posters, To Do lists and more, you will definitely feel a lot more organized.
-Quick Action Bonus (expires 72 hours after enrollment opens)
Discover how to become a centered and organized Montessori Guide in the Montessori environment with this digital book.
It is a 21-day deep growth journey for the Montessori Guide (YOU!).
-Last Chance Bonus (expires 96 hours – 4 days- after enrollment opens)
This is a set of 6 checklists, one for each of the 6 categories in the Practical Life curriculum.
Keep track of lesson presentations, practices, mastery and more to stay organized and nurture happy, normalized children.
Additionally, you also get printable lesson step template cards for children that are struggling with remembering steps in particular works.
Q: How long will it take to complete the core framework?
About 6 months, but if you work diligently, you can finish it in about 4 months, if you really apply yourself.
Q: How long is enrollment open for?
Enrollment is open for 4 days (96 hours), with Action Bonuses expiring at 24, 72 and 96 hours from when enrollment ends.
Q: What are the Laser (video chat) group calls?
A video call via Zoom (a free website) twice a month. Count on the calls taking 1 hour of your time. But believe me, it will be time well invested as they are a great way of giving specialized support.
They are face-to-face video calls where you get to pre-submit a concise question that you need help with in your particular Montessori circumstance or situation.
Everyone get a 5-minute time slot for their question, but everyone is welcome to stay for the entire call, as they may glean from others' questions and situations.
Q: When are the Laser Calls?
Laser calls will be the first and third Monday of the month. Details on times and specific dates will be given after enrollment. Count on it taking 1 hour of your time.
Note: ALL ZOOM CALLS WILL BE RECORDED AND THE REPLAYS WILL BE AVAILABLE WITHIN 24 HOURS, SO NO ONE WILL MISS OUT.
If you aren't able to attend a call live, you can still pre-submit your question and I will answer it for you. You will then watch the playback to gain knowledge on your question and others' questions.
Q: Are there payment plans available for The Montessori Way Foundations Framework?
Absolutely! You have 2 payment options:
You can do the Flex Plan, which is 6 payments of $57 (that's less than $2 a day).
Or you can do 1 payment of $297 and save $45.
Q: What age group will this framework help me teach?
The Framework is building a firm foundation while implementing the method that works with the Montessori philosophy way to educate all ages.
While these foundational principles are applicable to Montessori environments of all ages, the lesson plans and presentations are mostly geared toward the age range of 3-6, which is the most common age group to do Montessori in.
Q: Is there a refund policy if I'm not satisfied?
I designed this 6-month framework for those who already know they are committed to Montessori.
If you are still in the research phase, this is not for you.
This framework offers enough of a scaffolding for you to build your firm Montessori foundation on, but it also has enough flexible elements to help you do Montessori that caters to your particular situation.
It is hard for this framework to not help you in what you need because it was built in such a way (with the ongoing coaching and the Zoom calls, etc) that you can be successful.
This doesn't mean that you need to come into the program with a firm foundation on the Montessori philosophy… that is what we do inside the framework.
Have the commitment to this wonderful method of learning… and a desire to do Montessori the right way by not doing it alone.
You do NOT need to be certified in Montessori or have any Montessori training to join.
Although this is a foundations framework, you'll discover how to learn exactly what you need to in the vast Montessori philosophy to get you one the right Montessori way.
If you cancel your payments, you will be obligated to pay your remaining balance in FULL upon cancellation.
If you need more time, and desire to renew your program at the end, you'll have the ability to renew at the same price you enrolled in as long as you renew during the 14-day renewal process. 
Request more information and I will happily share it.
Q: Are there any samples that someone can look at to know if this offer is right for them?
No. This is an online program that is being offered inside a portal. Giving out samples is not possible with this type of set up.
Q: Why should I enroll in The Montessori Way Foundations Framework RIGHT now?
Well, that is an easy question from my perspective!
Not only will the Framework help THIS school year by giving you complete clarity on the core framework to nurturing happy, normalized children, but will build your confidence in this method as it guides you through planning and implementing the upcoming year and years to come where you will gain the beautiful side effect of smooth, successful Montessori days.