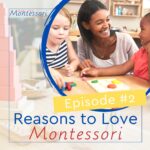 In this episode, we will share with you why we love to teach Montessori at home and also a list of wonderful Montessori resources to get you started.
Read more information here: https://masterthemontessorilife.com/reasons-to-love-montessori
Before I met my husband, I obtained a Bachelor's degree in Elementary Education and a Master's degree in School Administration.
I was certain that I enjoyed teaching and that I was constantly on the lookout for fresh and unique ideas and strategies to include into my classes.
It wasn't until I was introduced to the Montessori Method that I realized how distinct and individual learning can be, and how little a teacher counts.
What matters most is the child and how she learns in her environment at her own pace.
Montessori is popular for a variety of reasons. We'll talk about why we like teaching Montessori at home in this post, as well as give you a list of great Montessori resources to get you started.
We Love to Teach Montessori at Home
I think that the post would be extremely long if I were to explain every single aspect of The Montessori Method.
But I will be happy to list the pros and cons that I have encountered with using The Montessori Method in our homeschool.
It would be good to point out to you that we aren't purists (as in using The Montessori Method exclusively).
But we do incorporate it into pretty much every subject we study. 
There are some of the best Montessori books out there that helped me a lot.
See the list of books and the rest of the resources here: https://masterthemontessorilife.com/reasons-to-love-montessori
#themontessoriway #themontessoriwaypreproom #themontessoriguide #themontessoriwayfoundationsframework #themontessorimethod #themontessoriwayfoundationsworkshop #thenaturalhomeschool #thenaturalhomeschoolshow #montessori #montessoriathome #montessoritopics #montessorimaterials #montessorieducation #themontessorilife #themontessorijourney #themontessoriexperience #montessoripodcast #montessoripodcasts #montessoriprogram #centeredmontessoriguide #normalizedchild #montessoridays #montessorian #montessoriactivity #montessorienvironment #montessoriquestions #montessorihomeschool #montessorikids #montessorimom #montessoriactivities
Wardrobe from: http://bit.ly/TNHstitchfix