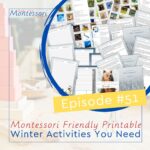 Come learn how you can simply celebrate Winter by introducing downloadable activities about animals in Winter that children will enjoy into your routine.
Full video training here:
Montessori Friendly Printable Winter Activities
1 Use visual cards to boost animal- and winter-related vocabulary
Help your child learn animal names and sounds as well as winter words with this printable Montessori-friendly animal and winter vocabulary cards.
The set includes both picture cards and label cards for each animal, plus a handful of winter scene cards.
Print the pages double-sided then cut out the individual cards. I like to hole punch one corner of each card then store them on a jump ring for easy access.
Alternatively, you could keep all the pieces in a small Ziploc bag.
If you're using these with younger children who are still working on their fine motor skills, consider laminating the pages or slipping them into plastic sheet protectors before cutting out the cards.
This will make them more durable and child-proof.
One way to use the vocabulary cards is to play a simple animal matching game.
To set up the game, spread out all the animal picture cards face up on a flat surface.
Then mix up the label cards and have your child take turns finding the corresponding label for each animal card.
If you're playing with multiple children, you could also turn this into a race by timing each player to see who can match all the animals the fastest.
You could also make this game more difficult by including the winter scene cards in the mix and having your child match each animal to its correct habitat.
2 Use age-appropriate lessons on complex topics for children to understand
One of the best ways to help children understand complex topics like Winter is to use Montessori-friendly lessons.
This includes using materials and activities that are at the child's developmental level, as well as breaking down concepts into manageable chunks so that they're easier for children to grasp.
One great printable activity for teaching about Winter animals is a word search puzzle.
Simply print out this word search page, then have your child circle all the terms relating to Winter and its animal inhabitants.
You can use this activity to reinforce vocabulary words or introduce new terms, depending on the age of your child.
These lessons focus on hibernation, migration and adaptation.
Children will learn what these three terms are and what animals do in Winter.
Simply follow these discussion points and lesson plans.
-Hibernation is a state of deep sleep that some animals enter during the winter.
-Migration is when animals travel to different places to find food or shelter.
-Adaptation is when an animal changes its behavior or appearance to survive in a new environment.
3 Use notebooking pages to practice handwriting, vocabulary and researching skills
Notebooking pages are a great way to encourage children to practice their handwriting, expand their vocabularies and even do some research.
This printable set includes a variety of notebooking pages all about different Winter animals.
Have your child choose an animal to research, then use the provided printables to guide them through the process.
They'll start by brainstorming what they already know about the animal, then move on to doing some basic research to find out more.
Once they've gathered all their information, they can use the notebooking page to record what they've learned in their own words.
This activity is perfect for reluctant writers or those who need a little extra help getting started with writing.
It's also great for visual learners, as they can use the notebooking pages to illustrate what they've learned about their animal.
With this set of printable pages, kids will learn a lot about some of Winter's coolest creatures and have fun doing it!
Montessori Winter Activities can be a lot of fun
These Winter activity ideas can be wonderfully educational, for both you and your child! If you're looking for some inspiration, check out our top five picks for printable winter activities.
First on our list is a matching game featuring various animals and their winter habitats.
This is a great way to help your little one learn about the different ways animals adapt to the cold weather.
Next, we have a lovely counting activity that makes use of buttons or pom-poms.
Children will love getting to sort and count the colorful pieces.
They'll be building fine motor skills at the same time.
If you're looking for something a bit more hands-on, try this next activity.
It's perfect for helping children understand how animals use their fur to keep warm in the winter.
They'll get to dress up a paper doll in different furs.
After that, they can experiment with different fabrics to see which keeps the doll warmest.
Our fourth activity is all about exploring the concept of hibernation.
Children will love hearing stories about bears and other animals that sleep through the winter.
Then, t they'll be excited to try out this printable hibernation activity.
They'll get to build their own little dens and pretend to hibernate like their favorite animals.
Last but not least, we have a fun activity for helping children understand why birds migrate south for the winter.
They'll make their own binoculars and use them to spot birds in photos.
Then they can read a short informational passage about migration.
Acts of Service the Montessori Way

Are you trying to think of Montessori friendly ideas that will get your children into the giving spirit? In this episode, we will be looking at some great acts of service ideas that you can implement anytime, but especially around the holidays.

Practical Life Fine Motor Skills Printable Activity

In this blog post, we'll discuss the importance of fine motor skills and some fun ways to help your child develop them through a Montessori Practical Life activity.

The Role of Montessori Parts of Speech in Language Arts

Montessori Language Arts takes a distinct approach to teaching parts of speech, transforming what could be a mundane subject into an engaging, hands-on learning experience for children.
#themontessorijourney #themontessoriexperience #montessoripodcast #MasterTheMontessoriLifeShow #themontessoriwayfoundationsframework #themontessoriwaypreproom #themontessoriguide #themontessorimethod #themontessoriway #MasterTheMontessoriLife #montessori #montessoriathome #montessoritopics #montessorieducation #themontessorilife #montessoripodcasts #montessoriprogram #centeredmontessoriguide #normalizedchild #montessoridays #montessorian #montessoriactivity #montessorienvironment #montessoriquestions #montessorihomeschool #montessorikids #montessorimom #montessoriactivities #montessorimaterials
Wardrobe from: http://bit.ly/TNHstitchfix