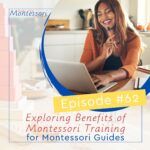 The advantages of Montessori training for Montessori Guides will be discussed, along with the reasons you should take it seriously. The weekly podcast or LIVE show's themes are helpful to listeners in a number of important ways. Some people are beginning to comprehend the basic principles of Montessori education and how they might be applied to create effective learning environments.
We all know that having a wonderfully ordered Montessori classroom doesn't equate to a child really learning anything.
The contents of the podcast and LIVE event will teach listeners how to inspire pupils in a Montessori setting. They look at frequent misconceptions about the Montessori philosophy as well as the benefits of a child-centered education. Additionally, kids can learn how to use followers and leaders in a Montessori group setting, among other things.
You will also learn how to include sensory activities into your classes as a listener. Additionally, they create strategies for fostering imagination and creativity in a Montessori atmosphere that is grounded in the real world.
Montessori Guides need training
The above claim is entirely accurate. I can't emphasize enough how crucial it is that you pay attention to and take action on that. Different Montessori training programs exist. So make sure to look for and adhere to Montessori teachers who have a track record of success.
I've been studying, instructing, and coaching the Montessori Method for more than 18 years. Almost every type of Montessori training under the sun has been encountered by me. Because of this, I have made it a point to provide you with the trainings that are the most crucial, fundamental, and useful. No filler, no time wasted.
I'll go through a lot of the advantages of Montessori training for you in this class.
Watch & Listen to the Episode Here:
As you watch or listen to this training, know that you will be able to get more information than what is included in this blog post.
However, I really want to encourage you to take the time to watch or listen and take notes.
Importantly, this will be helpful to you now and in the future.